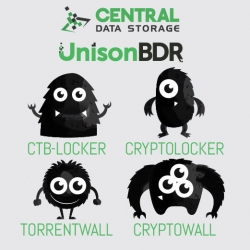 Lincoln, NE, February 07, 2017 --(
PR.com
)-- Central Data Storage announces a new update to its UnisonBDR software, a disaster recovery solution that enables small-to-medium medical, dental and related businesses to avoid paying ransomware fees to criminal hackers bent on holding their sensitive data hostage.
Companies paid over $1 billion in ransomware in 2016 and this number is expected to rise in 2017. Criminals typically carry out ransomware attacks by sending malicious emails that employees inadvertently open and click on, or by tricking employees to visit infected, third-party websites that then take over their own company's computer network.
In 2017, information security experts anticipate that more ransomware attacks will be carried out through mobile devices. This is particularly worrisome for organizations that have instituted a Bring Your Own Device or BYOD policy, letting employees use their own smartphones and tablets to perform company work as well as access and store proprietary company data.
Mobile devices used to connect with public access Wi-Fi hotspots create an easy path for criminals to penetrate organizations with malware. An employee unwittingly signs in to the network using a mobile phone and winds up turning the company's network over to malware that seizes the computers. The result is a mocking message that appears on the screen with instructions to pay the ransom if they ever want to see their data again.
The average ransom demand from cybercriminals has more than doubled to $679, from $294 at the close of 2015. Crypto-ransomware is the dominant type of ransomware
Data is often the most important asset an organization owns. Unfortunately, many businesses do not take proper steps to ensure that their information is secure, fully protected and available to them when disaster strikes.
Whether during a natural disaster, terrorism, war or vandalism attack, companies that have a robust backup system in place can restore their data and get back up and running quickly and efficiently. In the meantime, their competitors who lack a defense against ransomware will scramble to find out where their files have gone, losing valuable time, revenue and the loyalty of their customers.
CDS currently saves and restores data for two to three customers each week from ransomware. The company restores their mission critical and patient data from its software-driven hybrid private cloud computing based service. UnisonBDR is a complete managed backup and disaster recovery solution which is also protected with state-of-the-art, industry high 448-bit encryption.
Indeed, every month, CDS saves customers from paying more than $40,000 per year in ransomware to cybercriminals.
"Our clients face three major challenges today. First is virus intrusion recovery, and the best protection is a good backup and disaster recovery plan," said Ed Conklin, President and CEO of Central Data Storage. "And since 2008, Central Data Storage has been on the leading edge of data restoration."
"The second challenge is that the volume of data our clients must manage is constantly growing and changing, while managing this growing data remains a difficult and expensive task. Lastly, The third challenge is that our clients expect more data that is always available, always on and always updated. With the latest upgrade of UnisonBDR, we have addressed these challenges."
With the new upgrade to UnisonBDR comes improved functionality, making it easier for customers to work with the software, using a web interface with data selection procedures and help desk support right at the user's fingertips.
Defense against ransomware is Central Data Storages' primary mission with the latest software upgrade to UnisonBDR.
About Central Data Storage:
Central Data Storage opened its doors in Lincoln, NE, as a specialized national company, providing superior online backup and recovery solutions dedicated to safeguarding the practice management data of dentists, medical practitioners and business professionals. CDS offers self-service and managed backup solutions to specialized verticals to protect their critical data and provide 448-bit encryption services along with a free 24-hour, no cost, restore guarantee.
CDS has served small to medium size medical and dental clients since 2008 all across the United States and in Canada. As one of the largest Managed Backup and Disaster Recovery companies in the country, we know that customer requirements for responsibility and dependability are at an all time high. Central Data Storage has helped many clients avoid costly fees by providing UnisonBDR as a disaster recovery solution that outperforms the competition.