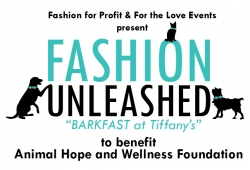 Los Angeles, CA, February 08, 2017 --(
PR.com
)-- What: Fashion Unleashed "Barkfast at Tiffany's" Fashion Show & Vegan/Vegetarian Brunch Fundraiser for Animal Hope and Wellness Foundation
Presented by Fashion for Profit and For The Love Events.
Fashion Unleashed "Barkfast at Tiffany's" Fashion Show & Brunch Fundraiser is an exclusive event that combines fashion, doggies, and charity. The event features select dog and human fashion designers, a runway show, fundraising opportunities and a chance to save lives. Animal lovers are encouraged to attend the event and raise awareness about this organization that is making a difference in the lives of many dogs. Join them for a vegan/vegetarian brunch inspired by Breakfast at Tiffany's and you can expect incredible people and doggie fashions, charity opportunities, and of course, a chance to make a difference in the lives of many dogs.
Admission: $100 Early Bird Ticket (Sales end on March 5)
$150 General Admission Ticket (Sales end on March 19)
https://www.eventbrite.com/e/fashion-unleashed-barkfast-at-tiffanys-tickets-31343168260
Facebook:
Fashionunleashedfashionshow
When: Sunday, March 19, 2017
11:00AM - 3:00PM
Where: Hilton Universal City
555 Universal Hollywood Dr.
Universal City, 91608
Who: Established and up-and-coming fashion brands for people and pets, such as Assisi Workoutwear and Infatuated Zebra. There will also be original dog fashions created by the students of The Art Institute of California – Hollywood, one of the sponsors. Other sponsors include Arbonne, Paul Mitchell: the School, the Fashion Business Inc., and Brutzkus Gubner.
About: Animal Hope and Wellness Foundation:
The Animal Hope and Wellness Foundation is a 501(c)3 non-profit organization focused solely on rescuing abused and neglected animals. The organization rescues them, provides full rehabilitation services, and then works to find them their fur-ever families.
What makes Animal Hope and Wellness different from other rescues is that the animals they take in are not only shelter animals or strays. They are animals that have been beaten, kicked, shot, run over, used for gang initiations, and have been waiting for the day that someone would come to save them.
Another focus and main reason for this event is to find homes for dogs rescued specifically from the Asian Dog Meat Trade in China. Animal Hope and Wellness aims to remove as many dogs as possible from the slaughterhouses and torture chambers where the use of cruel and barbaric methods are practiced to kill dogs in order for their meat to taste better.
Frances Harder / Fashion For Profit:
France Harder is the founder/President of Fashion Business Incorporated (FBI), which provides important resources, education, and consulting to fashion enterers. She has self-published a series of self-help books (Harder Publications), including "Fashion for Profit" 10th edition, which is considered by many as THE go to extensive textbook that covers the A-Z to starting an apparel business. France also serves as a global apparel expert to the United Nations and private sector clients for apparel related businesses around the world. France has 35+ years' experience as a respected fashion educator and is currently consulting internationally, presents workshops and many seminars on product development, branding, merchandising, product procedures, exporting and entering the US market.
Art Institute of California – Hollywood:
The Art Institute of California – Hollywood, a campus of Argosy University is one of The Art Institutes, a system of over 50 schools throughout North America. Programs, credential levels, technology, and scheduling options vary by school and are subject to change. Not all online programs are available to residents of all U.S. states. Several institutions included in The Art Institutes system are campuses of South University or Argosy University. The Art Institute of California – Hollywood, a campus of Argosy University, 5250 Lankershim Blvd, North Hollywood, CA 91601 © 2016 The Art Institutes.
The Art Institute of California - Hollywood is in the center of several historic landmarks in the San Fernando Valley located in the heart of North Hollywood, just minutes from Universal Studios, Warner Bros, Disney, ABC, CBS-Radford and NBC.
FortheLove Events:
Adrienne McNeal is the founder and creator of FortheLove Events. Adrienne has a Bachelor degree in Fashion Marketing and Management and has seamlessly maneuvered her way to produce weddings and fashion events alike. Also, as an Art Institute Alumni, Adrienne decided to create her company based on the opportunities the students come in contact with and make sure they have a company they can rely on to help them operate the event efficiently. FortheLove was created to assist from small to large events to make sure the attention it needs is brought forth by a great team. Many of the team members are the elite of the Art Institute of California-Hollywood campus.
Adam Montelongo:
The fashion show will be directed by Adam Montelongo. Adam is a recent Art Institute - Hollywood of California graduate in Fashion Marketing & Management. Throughout the year, he has worked on a variety of events such as Art Heart's Los Angeles Fashion Week Showcase, Courtney Allegra's grand opening of her namesake store, and the 2nd Annual Fair Trade Fashion Show. Adam now works at Fashion Business, Inc., and is heavily involved in the industry throughout Los Angeles.