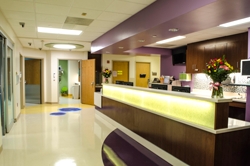 Aurora, CO, February 25, 2017 --(
PR.com
)-- The Medical Center of Aurora (TMCA) announced today that its new Pediatric Emergency Rooms (ER), are open. The new ER unit is part of the Pediatric Care network within the Rocky Mountain Hospital for Children (RMHC) through HealthONE.
The newly renovated space features five dedicated, private pediatric beds in an area decorated with bright, cheerful colors which may help to decrease anxiety in their youngest patients. Additional kid-friendly design elements include interactive tiles and kid sized equipment. The unit's affiliation with Rocky Mountain Hospital for Children ensures that they meet the highest standards in pediatric care as set forth by RMHC.
The unit includes care provided by board-certified pediatric physicians and nurses who specialize in pediatric emergencies and the safest drug dosing for children, using computerized drug dosing calculations. The specialized equipment and unique procedures for treating pediatric patients, such as "ouchless" IV starts and blood draws, as well an environment designed for safety, will help make the young patients feel as at ease as possible.
"We are happy to be able to provide this special level of care, in a bright kid-friendly unit, for our youngest patients and their parents," said Dan Miller, President and Chief Executive Officer of The Medical Center of Aurora (TMCA). "We understand that being in the emergency room is very stressful, especially when your child is the patient. We want to assure parents that we can provide comfortable appropriate care to all children in our community."
"The TMCA ER's Pediatric Care designation with Rocky Mountain Hospital for Children gives patients access to a wide spectrum of pediatric specialty care in Denver, including the most advanced Pediatric OR in the entire country," said Dr. Reginald Washington, Chief Medical Officer at the Rocky Mountain Hospital for Children. "If a child is in need of a higher level of care, he or she would be transferred to the Rocky Mountain Hospital for Children Pediatric Intensive Care Unit or Inpatient Pediatric Unit. It's one of the many benefits of being part of the larger pediatric system of care."