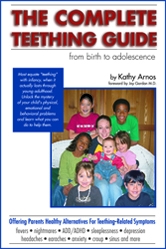 Sherman Oaks, CA, February 28, 2017 --(
PR.com
)-- "The Complete Teething Guide: From Birth to Adolescence" by Kathy Arnos explores how the teething process may contribute to many of the health, emotional and behavioral problems of our children.
According to Arnos, while most people equate "teething" with infancy, it actually lasts through young adulthood. Doctors, dentists and celebrities are praising Arnos' book, which is filled with research, education and natural remedies.
In celebration of 25 years in publishing, Spirit Dance Publishing is offering "The Complete Teething Guide" with a "pay what you want" deal (plus tax where applicable and shipping). That's right - readers decide how much they want to pay for the book as the company's way of giving back. Additionally, a percentage of the book sales will be donated to the Holistic Moms Network™ a non-profit 501(c)(3) organization dedicated to connecting families living holistic lifestyles.
Parissa Ezzati, D.D.S., states, "I am so excited about The Complete Teething Guide. Each chapter has something new to offer; I want to give a copy to all my patients."
The most common, but unsuspected, teething-related symptoms include:
- ADD/ADHD
- Nightmares/Sleeplessness
- Earaches/Headaches
- Anxiety/Depression
- Nasal Congestion/Coughs
Included subjects:
- Nutrition
- Breastfeeding/Bottle-Feeding/Jaw Development
- Orthodontics - Alternative Appliances/ Cranium & Facial Structures
- Natural Solutions – Homeopathic/Herbs/Flower Essences
"As I read The Complete Teething Guide, I found myself learning much more in a few short hours than I had gleaned from several years of pediatric training and practice," says pediatrician and noted author Jay Gordon, M.D.
"Kathy has a rare gift. She is extremely knowledgeable, a willing teacher and shares this in her book, The Complete Teething Guide." - Actress/Mother – Kim Basinger
Kathy Arnos is an internationally recognized author, teacher and healing consultant specializing in children and women's issues. She has been lecturing and writing about health and environmental issues for more than 30 years. She is the past producer of the Whole Children, Whole Planet Expo in Los Angeles and the editor/host of Eco Family News – a free e-newsletter, blog and online radio show.
Arnos has appeared on national and local television and radio shows, and has produced local public television shows about raising emotionally healthy kids without drugs. She also sits on the advisory boards for California Safe Schools, the Holistic Pediatric Association and the National Parenting Publications Awards (as their green judge). Her first book, Bach Flowers for Children – Raising Emotionally Healthy Children Without Drugs was first published in 1992, second edition 2010.
Whole Planet Productions, Inc. is the parent company of Spirit Dance Publishing. For more information please visit
wholeplanetproductions.com