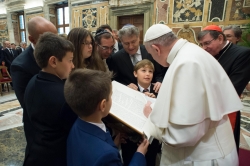 Madrid, Spain, February 28, 2017 --(
PR.com
)-- International publisher - ACC Arte Scritta, in collaboration with Mexican businessman - Dan Tartakovski, have created their artistic edition of the 5 books of Moses called
'The Torah Project
'. They want to share the important messages of the Torah in the Jewish book to everyone around world and encourage them to engage in interfaith dialogue. At an exclusive presentation in the Vatican on February 23rd 2017 the Holy Father Pope Francis received the first copy at the Apostolic palace in the presence of renowned personalities i.e. Rabbi Abraham Skorka, Dr. Adolfo Roitman, Professor Otello Lottini; special guests; as well as the production team.
The importance of interfaith dialogue is its ability to build bridges in society. However it is faced by various challenges e.g. lack of clarity, compromising religious identity and forceful conversion. The mission of Pope Francis and his close friend Rabbi Abraham Skorka, an Argentine Conservative rabbi, is to overcome the barriers to this dialogue. ACC Arte Scritta hope that this Jewish book will not only motivate people and strengthen their faith, but also to enable them to reflect on interfaith dialogue, it's problems, and the ways to overcome them.
The presentation began with Rabbi Skorka's introductory speech to his holy brother. He spoke about aspects of The Torah Project, and its role in interfaith dialogue. "Our commitment to the Jewish-Catholic dialogue allows us to continue to have a deep and sincere friendship which we call brotherhood." Afterwards the 2 righteous men held each other with immense affection and love. Pope Francis expressed his sincere gratitude for the
Jewish book
and how this publication is "the fruit of a 'covenant' between persons of different nationalities, ages and religious confessions, who joined in this common effort." A small group of Jewish and Christian children presented the Jewish book to the Holy Father. They held the book in front of Pope Francis whilst he admired its decorative cover, the beautiful hebrew text, and the artworks. Dan Tartakovski recited, with conviction, "Shehecheyanu" - the Jewish prayer for gratitude, to bless this special and happy occasion. The presentation concluded with Pope Francis greeting all the guests who traveled from 10 countries including Italy, Spain, Argentina, USA, Israel and the UK.
Inside The Torah Project book there is a blessing given by Pope Francis on September 18th 2016. It reads "I want to bless all those who have worked in the production of this Torah, which is the word of God, that must unite us in love forever."
Within each book there are:
All of the 5 books of Moses.
27 lithographs of the work of Jewish-Cuban artist Baruj Salinas.
Introductory texts about interfaith dialogue in the book's prologue are written by some of the most renowned personalities in art and biblical studies, which have been translated into English, Spanish, Italian and German.
A unique Hebrew font designed by Jerusalem's calligraphist Izzy Pludwinski.
A beautiful cover depicting the city of Jerusalem made of wood and nacre (pearl).
There are 126 editions of this book in which some of which are reserved for the world's most renowned museums and institutions, and others are set aside to be purchased by private collectors around the world. The Torah Project wants to share this Jewish book and its meaningful words to all national and international communities, and project its relevance on modern life.
For more information about The Torah Project, please visit
www.torah-project.com
and to buy the Jewish book contact
ACC Arte Scritta
at +39 342 9163031.
About ACC Arte Scritta: ACC Arte Scritta is a young Italian-Spanish publisher which was formed by Ricardo de la Fuente and Maria Cecilia Braschi who have a love and passion for all things which are manufactured by hand without using impersonal and highly industrial processes, and appreciate the artistry of the traditional craftsman.