Story Academy Launches Kickstarter Campaign
First Ever Customizable Storybooks, All About Traveling Launches Today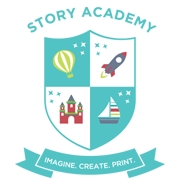 San Francisco, CA, March 10, 2017 --(
PR.com
)-- Story Academy, a new startup dedicated to getting kids excited about reading and travel, officially launches today. With the coinciding launch of Story Academy's Kickstarter campaign, the company is excited to get the word out to kids, parents and reading enthusiasts! Story Academy offers kids a gateway to other countries through the power of reading with customizable books. The best part? Parents can order a copy of their child's creation to read at home.
The company's first story, Lost in Paris will be available to Kickstarter donors. Lost in Paris is the first volume of the "My Adventures with Leo and Max" series. It takes place in beautiful Paris where one of the reader's friends mysteriously vanishes. Kids get to play detective as they discover the sights and sounds of Paris. By the end of the book, they will learn more about the country, its history, its monuments and even some yummy local treats.
"We are starting small with one story and are already hard at work on more adventures," said Helene Anderson, Founder and CEO of Story Academy. "I am thrilled to launch our Kickstarter campaign and share Story Academy with the world! My son has been a huge inspiration with this project and I'm eager to share Story Academy with other families. We have big plans for the future, this is just the beginning of an amazing adventure!"
In addition to inspiring kids to have the itch for traveling, the company is pledging to help kids get excited about reading. Story Academy is giving a portion of their Kickstarter campaign proceeds to Reading Partners, a nationwide organization that offers one-on-one tutoring programs to children who have fallen behind in reading.
"It's cool to be the inspiration. It's even more awesome that we're making something amazing for other kids," said Indy Anderson, Co-founder, inspiration and advisor of Story Academy. "I've worked close with my mom to make Lost in Paris a fun story that all kids with like."
For a limited time, Story Academy is offering special packages exclusively for Kickstarter backers. For more info on how you can donate visit: https://goo.gl/8fMhwq
Keep your eyes out for volume 2 of "My Adventures with Leo and Max" when Story Academy takes readers right into the heart of beautiful Mexico!
Contact
Story Academy
Evie Smith
831.588.1174
rebelliouspr.com

Contact