Businessman Stephen L. Hightower Announces Campaign to Connect African American Youth with National Parks
Campaign Builds on the Success of the Every Kid In A Park Initiative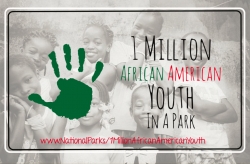 Los Angeles, CA, March 10, 2017 --(
PR.com
)-- Inspired by the success of the Every Kid In A Park (EKIP) initiative, businessman and National Park Foundation Board Member Stephen L. Hightower has launched the 1 Million African American Youth In A Park campaign to help get more African American youth engaged with their national parks. Statistics show that children of color and children from underserved populations are far less likely to visit our national parks.
"The support raised by the campaign will enable a first level of engagement that will create a multitude of educational opportunities for the underserved," said Hightower. "The experience will lay the foundation for long-term employment and career options with the National Park Service for people of color."
Hightower has retained Connect Central Corporation, a Las Vegas, Nevada marketing and branding firm led by Tva Parks, to help generate support for the campaign. The firm will look to introduce and create strategic alliances with organizations, celebrities, and media to build support for 1 Million African American Youth In A Park. The campaign will target (Title 1) schools and urban communities, the communities most often, and far less likely, to benefit from our national parks.
The Obama Administration launched the Every Kid In A Park initiative in February 2015 with the goal of introducing millions of young Americans to their federal lands and waters. The program provides fourth graders, along with their families, free admission to all public lands and waters. Through this program, the next generation is being inspired to discover all that our public lands have to offer and how they serve as living classrooms. Since its launch, the program has directly contributed to thousands of new park visitations.
To find out more about 1 Million African American Youth In A Park, please visit: www.nationalparks.org/1millionafricanamericanyouth.
Contact
Connect Central Corporation
Kayo Anderson
1-702-816-2700

Contact