Musician Salif Keita to Perform Benefit Concert for Albinism at Fillmore Silver Spring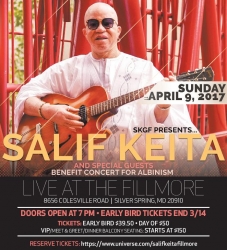 Silver Spring, MD, March 17, 2017 --(
PR.com
)-- Salif Keita, the legendary Malian musician known as the "Golden Voice of Africa" will take the stage at LiveNation's Fillmore Silver Spring venue for the very first time on Sunday April 9th, 2017 at 7pm.
For Keita's fans, the concert will be a rare and unique opportunity to hear the legendary singer belt out his greatest hits like "Tekere", "Madan", "Yamore", "M'Bife, I love you" for the first time in one concert. The entire show will be a chance to hear how Keita's unique tenor and music has evolved throughout his 40-year long career.
For the philanthropist, the proceeds of the show will go to a cause close to Keita's heart and his lifelong humanitarian work to improve the lives of people with albinism in Africa. Keita's US Global foundation provides education and awareness about albinism as well as provides free healthcare and other services to albinos. In the US not much is known about albinism as it is a rare condition that does not have grave consequences for the integration of those affected into society, yet in African occurrences can be as high as 1 in 1,000 and those with the condition suffer for isolation, persecution and genocide, not to mention high risks of skin cancer.
About Albinism
Albinism is an inherited condition which causes a total loss of the melanin production in the skin, hair, and eyes, sometimes giving people with albinism pale white skin, blond hair and blue eyes, regardless of their race. Keita, who also has albinism and suffered extreme discrimination as a child, started his foundation in 2005 to help others with the condition and raise global awareness about the plight of African albinos who often die by the age 30 from skin cancers. His foundation provides free healthcare, sunscreen, hats and sunglasses to more than 6,000 persons with albinism each year. Albinism is found all over the world. In Africa, albinism is especially devastating because of the hot temperatures, lack of access to sunscreen due to extreme poverty, lack of information about the disorder coupled with occult beliefs that albinos are born white because of a curse, as well as a lack of adequately equipped medical facilities for dermatology. In America, those with albinism are often teased and bullied for their unique appearance, yet are usually able to avoid skin cancer and live normal lives. In Mali, Keita's native land, there are about 500 cases per year of severe skin cancer in patients with albinism. Most of these cases necessitate costly evacuations out of Mali or else the patient's life is lost as a casualty of an environment which is hostile to their very nature and condition. Although the causes of albinism are scientifically known and the disorder affects one in 17,000 people worldwide, it is often a condition which is misunderstood globally, especially in African countries where albinos look drastically different and where illiteracy affects more than two thirds of the population in some areas.
Doors open: 6:30 pm Show starts: 7pm
Ticket prices: From $39.50-$50 for General Admission
VIP Tickets: Separate Red Carpet Entrance, Private meet and greet with Salif Keita before the show, Premium Balcony seating with dinner and cocktails service, starts at $150
Contact: skgf@salifkeita.us for more information. Visit www.salifkeita.us for more information on The Salif Keita Global Foundation Inc.
To purchase tickets online:
http://www.universe.com/salifkeitafillmore
Contact
The Salif Keita Global Foundation
Coumba Makalou
240-421-3681
www.salifkeita.us

Contact
Multimedia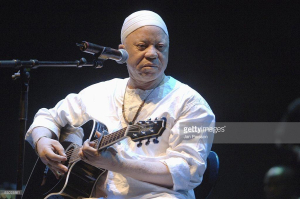 The "Golden Voice of Africa" Multi Grammy Nominee to perform in Silver Spring MD on April 9, 2017. Purchase tickets online at www.universe.com/salifkeitafillmore