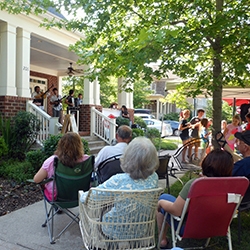 Ventnor City, NJ, March 19, 2017 --(
PR.com
)-- On Sunday, June 11th from 1:00-5:30pm, the streets of Ventnor and Ventnor Heights will be filled with music, as many of South Jersey's finest musicians sing, play and dance on their porches and front stoops. To hear them, grab a map at the many information stations, Ventnor Coffee 108 N Dorset Ave Ventnor, Ventnor City Hall 6201 Atlantic Ave, Hammer Fiber located in Ventnor Plaza on Wellington Ave, or online at www.amazingventnor.com, and then walk or bike around the neighborhood to take in the sounds of this free event. A free jitney shuttle will be running throughout Ventnor, grab a map for pickup locations. This year's festival is sponsored by Hammer Fiber, Amazing Ventnor, Farley and Ferry Real Estate, and WIBG 94.3FM.
The Ventnor Porchfest will feature 89 musical acts and 42 Porches graciously donated, the biggest Porchfest yet in New Jersey. Performers include Jazz Dirty, Soul Sceintists, Dead Reckoning, Forest View Movement, Carig Carey Band, Jaskol Jazz Trio, Mamakidd, Squid Bros Inc, Pepperwine, By Torchlight, Ill Rendition, South Jersey Bluegrass Quartet, Either Way, 2:15 Band, Argo, South Jersey Jazz Society, and much, much more. The festival offers musical styles ranging from roots rock to traditional jazz, and from pop to reggae, with side trips into karaoke, world music, and experimental indie. There will also be chances to join in on some art at the Anchor Arts location at 132 N Surrey Ave. There will be various artists and crafters at various porch locations where you can explore locally crafted wares. There will be a special art and yoga experience setup at Heart Revolution and Design Nation at 5209 Atlantic Avenue. There is surely something for everyone.
Public restrooms will be available for festival-goers at Ventnor Community Center, Ventnor Coffee, and Ventnor City Hall.
When the music is done at 5:30pm, grab a take out dinner from a local restaurant and head back to the Newport Avenue Beach Park for more fun and music by our event headliner, the famous Funk Daddy Band at 6pm. They will be bringing the sounds of New Orleans to the Jersey Shore.
There are still sponsorship opportunities for local businesses to be involved in the event, see their website
www.amazingventnor.com
for more information.
For more information, contact festival organizer Michael Einwechter at michael@amazingventnor.com