Run's Done Introduces Solutions-Oriented Products Made for Runners by Runners
Run's Done, headquartered in Georgia, has launched a new product line, website & wholesale network. The new product line includes reusable and disposable seat covers designed to protect vehicle seats from post-workout sweat.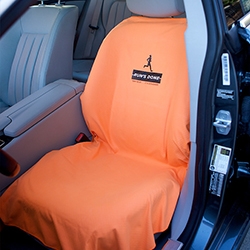 Milton, GA, March 22, 2017 --(
PR.com
)-- Run's Done is a solutions-based company focused on runners and founded by life-long runner, Jerry Anchors. Products include a unique new line of sports towel seat covers to protect vehicle seats from post-workout sweat.
"I ran track and cross country in high school, and continued with 5K's through marathons after school. In the past several years I've added trail and mud-runs," Anchors said. "I created the Run's Done product line to solve a life-long problem which is car seats soaked with post-workout sweat. It's hot in my home state of Georgia and I wanted an easy-to-use seat cover solution. Run's Done is a by-runners, for-runners company, and I look forward to working with retailers, race organizers, and other athletes."
Run's Done offers reusable and disposable seat covers. The machine-washable Sports Towel Seat Cover is made with soft, comfortable, microfiber suede fabric. The moisture-wicking and antimicrobial material keeps perspiration and odor away.
It's backed with non-slip drops embedded into the fabric which firmly hold it in place without cumbersome straps. The covers retail for $34.95, install easily, come in orange and gray colors, and offer a universal fit. The Disposable Sports Towel Seat Cover is made from durable, heavy-weight non-woven fabric which is tough enough for multiple uses. A built-in strap keeps it in place. It retails for $8.95 and is perfect for use after mud runs or for sweaty runners in a hurry.
The website, www.runsdone.com, launched March 1st and the company is in full swing building its wholesale network. In addition to offering competitive margins, Run's Done offers retailers and race directors the option to customize products with their logo.
About Run's Done: Founded by Jerry Anchors in 2016, Run's Done's corporate headquarters is located in Milton, Georgia. The company specializes in both washable and disposable sports towel seat covers that protect vehicle seats from post-workout perspiration and odor. Run's Done sells through B2C and B2B channels, and offers a custom logo program for retailers, race promoters or special events.
Contact
Run's Done
Angela Keer
617-259-0290
www.runsdone.com

Contact