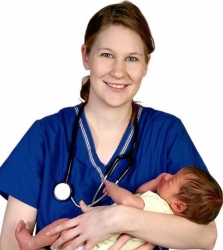 Fairfax Station, VA, March 28, 2017 --(
PR.com
)-- At a time when healthcare is part of the national conversation and family leave is up in the air, one woman owned business has had enough. Let Mommy Sleep is offering real solutions for new parents and the companies that want to provide benefits to them.
Let Mommy Sleep, the Industry Leader in Baby Nurse service since 2010 now offers 2 hour In Home Postpartum Visits by a Registered Nurse for new parents bringing their babies home for the first time. In addition to the many health benefits of having a professional nurse provide evidence based education and perinatal support, In Home Visits are a tangible and
cost efficient
solution for companies that may not be able to afford maternity/paternity leave.
Individuals also have the option to schedule In Home Visits.
"We've seen so many hardworking families suffering after bringing baby home and early intervention could have prevented it. Small businesses have always been the innovators in America, so now it's our turn to help on this issue," says CEO Denise Stern.
Stern is also working to bring Home Visits to private insurers as a supplemental product, making postpartum RN support a national standard of care. At $200 per 2-hour session, In Home Visits offer a more comprehensive service at a lesser cost than lactation consultations which are currently covered under the ACA.
More about Let Mommy Sleep:
Denise Stern started Let Mommy Sleep in 2010 out of the very personal experience of having medical complications after the birth of her twin daughters, another child who was just 17-months old and a husband with no paternity leave. The service began in Washington DC, and the due to the incredible demand for their specifically detailed approach to care, Let Mommy Sleep now has locations in New Jersey and Philadelphia with plans to expand nationally.
The company has garnered local and national media attention, including appearances on The Fox News Channel and ABC7 and contributions to The Washington Post, NPR, The Associated Press and Forbes. Stern was also recognized as 2013's Outstanding Woman-Owned Business by the U.S. Chamber of Commerce.
The company also runs the nonprofit,
Mission Sleep
giving free newborn care to military and first responders where one parent is deployed, wounded or deceased and is the only agency in the country awarded a government contract to teach postpartum care. Through all of these efforts, Let Mommy Sleep advocates for and assists new parents.
Contact:
Corporate Communications
care@letmommysleep.com
5161 I Ox Road, #212 Fairfax Station, VA 22039
703.201.2190