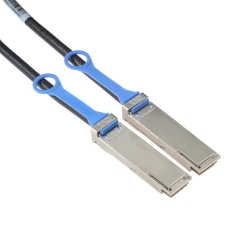 Endicott, NY, March 29, 2017 --(
PR.com
)-- Amphenol Cables on Demand (
www.CablesOnDemand.com
), an online subsidiary of interconnect-industry leader, Amphenol Corporation, proudly announces the expansion of its newest series of in-stock no lead-time
100G QSFP28 Passive Copper Cable Assemblies
; supporting blazing-fast data throughput up to 28.05 Gigabits per second per channel over 4 channels (112.2 Gbps aggregate). This precision-engineered QSFP28 Direct Attach Cable (DAC) line is now available factory-direct through Amphenol Cables on Demand with special introductory pricing as low as $89.67 per cable (1m length).
Adapting to the strict technical standards demanded by the new 100G QSFP28 interface is no easy feat considering it requires more than double the operating bandwidth of its popular predecessor:
Passive 40GbE QSFP+ Direct Attach Cable Assemblies
for 10-Gigabit and 40-Gigabit Ethernet applications, according to Nick Blas, Cables on Demand Product Manager, "By combining the engineering and manufacturing expertise of multiple Amphenol divisions and fabricating every component in-house (PCB, Connector/Backshell and Cable), Amphenol is one of very few interconnect manufacturers capable of bringing a true SFF-8665 802.3bj compliant QSFP28 Direct Attach Cable to market at the volumes needed to ensure same-day availability when others are quoting excessive lead-times."
Amphenol's line of 100-Gigabit Ethernet QSFP28 Cables make up part of a complete product portfolio including
SFP28 Direct Attach Copper Cables
for 25-Gigabit Ethernet switch applications as well as
QSFP28 to 4 x SFP28 Passive Copper Splitter (Fan-Out) Cables
. QSFP28 to SFP28 Splitter Cables are ideal for aggregating network traffic between a single 100GbE QSFP28 switch port and four 25GbE SFP28 switch ports. This arrangement is particularly well suited for Top-of-Rack (ToR) datacenter installations.
In order to ensure compatibility with your QSFP28 switch or host bus adapter (HBA),
Amphenol QSFP28 Direct Attach Cables
are in full compliance with the latest SFF-8665 802.3bj multi-source agreement (MSA) specifications; ensuring their use as compatible drop-in replacements for competing OEM QSFP28 DAC products. Amphenol QSFP28 Direct Attach Copper Cables are sold in lengths ranging from 1m (3.3') to 5m (16.4') and feature either 30 or 26 AWG Amphenol Spectra-Strip SKEWCLEAR wire depending upon cable length and application requirements. Key product features include:
* Guaranteed Drop-In Replacement for Competing OEM QSFP28 Cables
* Engineered to Exceed 100-Gigabit Ethernet 100GBASE-CR4 Standards
* QSFP28 26 or 30 AWG SFF-8665 compliant cable/connector design
* Up to 28.05 Gbps transfer rate per channel (100+ Gbps aggregate)
* Multi-platform support for 100GbE, 128G Fibre Channel and EDR InfiniBand
* Robust Zinc die-cast QSFP28 connectors with pull-to-release latching
* High performance Amphenol Spectra-Strip SKEWCLEAR EXF 8-pair cable
* Our 30 AWG SKEWCLEAR EXF exceeds competitors' 28 AWG cable
* Low cross-talk and pair-to-pair skew maintains signal integrity beyond 20 GHz
* Supports 100-Gigabit Ethernet per 802.3bj 100-Gigabit Ethernet standards
* Enjoy a reduced power budget and lower port cost compared to optical
* Fully RoHS compliant for environmental protection
* Cross references to the following Amphenol OEM part numbers:
* NDAAFF100G-001M (1m length / 30 AWG)
* NDAAFF100G-002M (2m length / 30 AWG)
* NDAAFJ100G-002M (2m length / 26 AWG)
* NDAAFF100G-003M (3m length / 30 AWG)
* NDAAFJ100G-003M (3m length / 26 AWG)
* NDAAFJ100G-005M (5m length / 26 AWG)