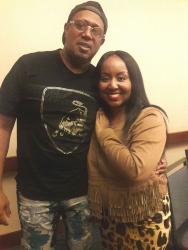 Atlanta, GA, March 31, 2017 --(
PR.com
)-- Superstar Entrepreneur, Rapper and Mogul "Master P," has given his seal of approval for the "Poetry Is Not Just Rhyming" Children Book Volumes, Authored by Kimberly D. Worthy.
The Atlanta Native met privately with the New Orleans Legend in Las Vegas, Nevada, where he dispensed his incomparable knowledge about the Music Industry, Business Strategies, and Life Lessons. Afterwards, the two discussed the Children Book Volumes and "Master P, " also known as Percy Miller, stated that he is passionate about educating the youth and is all for positive reinforcements. Miller also stated that he enjoyed the messages from the book and can definitely see the correlation between music and poetry.
"Poetry Is Not Just Rhyming," is an innovative learning tool and coloring book for kids. From Haiku's, Cinquains, to Metaphoric Poems, kids will learn that poetry does not have to rhyme and that a poem can be about anything that they choose.
"I was very grateful that Master P took the time to learn about the Poetry Is Not Just Rhyming Brand and also to learn about my Children's Television Pilot called Poetry and Life. He really showed interest and requested that I provide him with further information on the current projects that I am working on for possible collaborations. Being that I have been a fan of his for many years, the thought of working with him is beyond amazing!" stated Kimberly.
To conclude the meeting, Master P recorded a Promo Drop with Kimberly, encouraging fans to go out and purchase their copies of the "Poetry Is Not Just Rhyming" Book Volumes. To view the video, follow the link: https://youtu.be/sEdpTY9LTo0
To purchase the Volumes of "Poetry Is Not Just Rhyming," follow the link: https://www.amazon.com/Kimberly-D.-Worthy/e/B00MRS3ZQE
About Kimberly D. Worthy
Kimberly D. Worthy is an Author, Actress, Television Producer and Media Personality. Kimberly is well known as a stand out star from Season 1 of the Food Network's Hit Reality Show "Worst Bakers In America," where her fear of cracking eggs left viewers in hysterics. Kimberly is also a frequent Commentator on "TMZ LIVE" where she gives witty commentary on the latest in Celebrity News and Gossip. Kimberly resides in Atlanta, Ga., and she also develops and teaches Creative Writing and Poetry Workshops Nationwide. To learn more about Kimberly D. Worthy, visit www.kimberlydworthy.com or poetryandlife.com.
About Denise S'llure Publishing Company, LLC
Denise S'llure Publishing Company, LLC is an established Company based out of Atlanta, Ga. The company originated solely as a Publishing Company for Written Works, but through the years has evolved into other areas, including Marketing and Television Production.