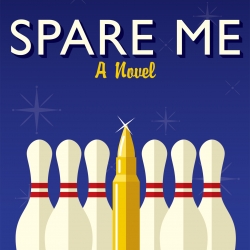 Plano, TX, April 04, 2017 --(
PR.com
)-- Spare Me, the comic novel about the intersection of the mob and the world of bowling, has been optioned by Los Angeles-based production company Bob Sticks Worldwide.
"The Bob Sticks team felt like the characters would play well on the screen," said author Vinny Minchillo. "I'm excited about the opportunity to bring them to life."
Some of the more notable characters include a would-be professional bowler, an accident-prone hit man, a wig-wearing bowling ball engineer and a bowling monkey with a weakness for candy bars.
"Action plays a big part in the story, too," Minchillo continued. "There's a gunfight that begins with a Zamboni crashing through a wall and we also have the world's slowest speed car chase."
Reader reviews have called the book "the Sopranos go bowling."
The story is currently being offered to studios for production development and the novel is currently available as a paperback and e-book through Amazon.