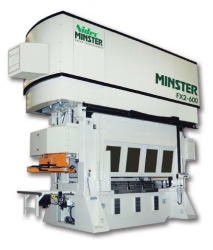 Milwaukee, WI, April 08, 2017 --(
PR.com
)-- Milwaukee-based ER Wagner announced it will have a new 600-ton Servo Punch Press available for production in late 2017, greatly increasing ER Wagner's metal stamping capabilities.
The Nidec Minster Corporation machine, which will be a part of ER Wagner's new 157,000-square-foot corporate headquarters and state of the art manufacturing facility currently under construction in the Village of Menomonee Falls, Wis., is latest technology in metal stamping, giving the company the ability to stamp bigger parts made of thicker materials including high-strength metals with complex geometries and tight tolerances.
"Metal stampings are at the core of our casters, hinges and tubular products," said Brad Gador, President of Engineered Products Division. "While servo press technology is not new to the stamping industry, our new 600-ton press is one of only a few in the contract manufacturing marketplace setting ER Wagner apart from our competition."
Other benefits include improved part quality through programmable forming speed, and lower part costs due to increased production rates with value added tapping, insertion and welding.
One of the ways this technology achieves these benefits is through the infinitely variable speed control offered by the servo motors. This allows metalworking to be done at the optimal forming speed given the part configuration and die design. The servomotors also allow for rapid acceleration and deceleration increasing production rates to 30%-40% versus mechanical presses.
ER Wagner is currently scheduling production on the new 600-ton Servo Punch Press. For more information, visit ERWagner.com/Servo or call 800-558-5596. For design or engineering capabilities questions, contact Dan Danoski, Director of Engineering, at 414-449-8260 or Jeff Becker, Sales/Account Manager, at 313-300-6849.
ER Wagner has been designing, developing and supplying high-quality casters and wheels, hinges and stampings, and machined and wrapped tubes for global manufacturers and distributors for more than a century. Based in Milwaukee, Wis., with production facilities in Brookfield, Ill., ER Wagner is one of the few domestic manufacturers in the hardware production industry. For more information, visit http://erwagner.com.