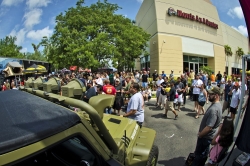 Pompano Beach, FL, April 10, 2017 --(
PR.com
)-- Morris 4x4 Center is announcing the launch of its new mobile-friendly website. While the fresh look is inspired by the rugged terrain Jeepers encounter regularly, navigating, purchasing, and finding parts is smoother than ever. Accounting for increasing mobile-based search trends, the mobile-friendly platform features a vehicle-specific fitment capability, returning only relevant parts for a user's vehicle model.
Morris 4x4 Center CEO Ken Mowry stated, "The successful launch of the website positions Morris to better serve its overwhelmingly digitally-oriented customer base. Researching and finding the right parts through mobile devices and desktop computers has never been as seamless as it is now." The new website comes as part of Morris 4x4 Center's broad efforts to reconnect Jeep and 4x4 enthusiasts with their outdoor passions.
Morris developed the revamped website by first drawing insight from its own staff of avid Jeep experts, gear-heads, and outdoor lovers. Furthermore, analyzing customer behavior, 10 years worth of order history, and website browsing patterns helped the team to develop an improved site structure to better meet the needs of their patrons.
Website visitors can also expect to see new categories, enhanced search, and regularly-released, fresh new video content covering jeep parts reviews, frequently asked questions, news, and installation tips. And although the look and feel of the website have greatly improved, customers can rely on the same incredible service and trusted brands to be on-site and ready to ship.
About Morris 4x4 Center
Morris 4×4 Center
is a leading e-commerce destination for Jeep and 4x4 enthusiasts looking to outfit and enhance their driving experience. It provides more than 40,000 products across top brands, with passionate experts and a commitment to great customer experience. With more than 1 million orders shipped worldwide and over 300,000 followers combined on Facebook, Twitter, and Instagram, Morris 4x4 Center puts the customer's needs in front of every new initiative. Located in Pompano Beach, FL locals can find thousands of replacement and aftermarket Jeep parts.
For more information please contact the Morris 4×4 Center headquarters in Pompano Beach, FL at (954) 941-7807.