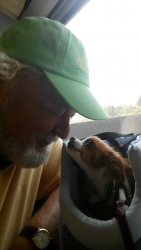 Uncasville, CT, April 28, 2017 --(
PR.com
)-- In a review of Reunion, critic Grace Cavalieri writes, "Richard Harteis is by nature a gifted poet and a prolific one which is also uncommon. He knows who he is in the world and claims it as his personal Monopoly board. Highly literate and incorrigibly mischievous, this is a masterwork. There's simply nothing like it anywhere on any bookshelf in the world. More than anything, Richard memorializes his lifetime partner William Meredith. Always and forever Harteis broadens out Meredith's life for us to see and remember the legendary poet. He punctuates this 'spiritual journey' with metaphysical wit, and lyricism; an homage to the ebullient past." For a YouTube account of the Bulgarian travel, visit the following link:
https://www.youtube.com/watch?time_continue=4&v=Ryy2K3WTs9Y
Reunion is Harteis' fifteenth original work in a long and distinguished career. "The good news is that Richard Harteis has come through with flying colors," James Merrill writes. Josephine Jacobsen describes the work as "exciting, perceptive, and extremely original: a brilliant act of the imagination." And Richard Wilbur calls the poems, "sensitive notes on a life the constants of which become familiar to the reader and show what power and resonance such a poetics may beget."
Richard Harteis lives at Riverrun on Thames in Uncasville, CT. and in West Palm Beach with his dog Sydney. He is President of the WilliamMeredithFoundation.org, a tax-exempt charity whose mission is to continue the legacy of the great American spirit, William Meredith.