GigGizmo™ Eliminates Local Live Music Drudgery for Online Promo – Autism and Genius Creatively Merge
With a tap or a click, GigGizmo™ is the first web-based tool designed specifically to schedule gigs and rapidly promote local music online so fans can easily find live performers in their towns.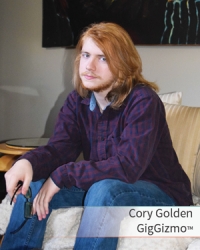 Lakewood, CO, May 04, 2017 --(
PR.com
)-- GigGizmo™ is the first web-based tool designed specifically to schedule gigs and promote local music so fans can easily find live performers in their towns.
Like Albert Einstein and Bill Gates, Cory Golden is naturally gifted in things technical – at 22, he writes programming code in more than 30 languages. And Cory struggles with Asperger's Syndrome, a trait he likely shares with Einstein, Gates and Wolfgang Amadeus Mozart. While small talk and social cues are tough for those with Asperger's, programming often comes naturally.
Last fall, when Cory's mother, Ylice – a graphic and web designer who promotes local music – expressed total exasperation at the lack of effective software to easily promote local live music online, Cory offered to develop one tool to rapidly do everything that previously required hours of work plus several different pieces of software.
During the past six months, mother and son have analyzed the local live music industry, evaluated available platforms (gauging usability), and Cory has developed valuable functionality so small venues and artists can quickly schedule gigs and promote shows, and fans can easily find them – a win for everyone!
GigGizmo™, the first product from Mountain and Valley, LLC, will revolutionize local live music promotion by eliminating hours of work and simplifying the whole online promo process. With one tap or click on a phone, tablet or computer, a venue or performer can:
· Schedule gigs.
· Update artist and venue calendars.
· Create instant online showbills.
· Announce performances on social media.
· Share event data with the world.
· Remind followers of performances with automatically scheduled posts.
· And fans use local mapping to find nearby entertainment, worldwide. They will simply click on "Find Bands" to see who is performing locally.
Designed to offer maximum flexibility for users: GigGizmo is web-based so no memory-hogging downloads are required; it can be accessed using Windows, OS X, iOS, Android and Linux; integrating Google's Geolocation Maps application makes it easy for music lovers to find local shows; and planned pricing is $12.95 per month for venues and artists, free for fans locating performances – ensuring availability for everyone who needs these capabilities to promote and find local live music.
Tech Whiz at Ten
Cory has been fixated on computers since he was a toddler. When he was 10, bored and needing a challenge, Ylice contacted PatchX, a Virginia-based charity that gives needy children and disabled people access to computers, asking if they could put the boy to work. Later that day, PatchX founder Brian Wilson showed up with three broken computers. He told Ylice, "Don't worry if Cory doesn't get these back to me; I'm happy to leave the kid something to tinker with." An hour later, Ylice called Brian back to the house. Young Cory was so excited; he had already repaired all the computers for other children to use.
"Genius May Be Abnormality"
Temple Grandin, a professor at Colorado State University is, like Cory Golden, a high-functioning autistic. Grandin worries that children who would have been labeled "intellectually gifted" in another age are "being denied opportunities because they are being labeled (autistic)." Association between autism and genius is strong: In the general population, one in 200 people show signs of Asperger's, but fathers and grandfathers of children with the syndrome are twice as likely to be engineers. Grandin notes that "genius is an abnormality," that social geekiness is simply the flipside of technical genius.
Curiously enough, many musicians who will use GigGizmo™ struggle with some of the same autism spectrum issues that Cory has faced. Singer-songwriter James Taylor, guitarist Travis Meeks, and singer Susan Boyle are among many diagnosed with autism.
Cory Golden's first commercial product is now in alpha-testing and is scheduled for beta release by late summer of 2017.
The company has launched a crowdfunding campaign on Indiegogo (https://igg.me/at/GigGizmo/) to ramp up and launch the product. Additional details about GigGizmo™'s easy-to-use, time-saving, house-filling capabilities are available at GigGizmo.com.
Contacts:
Ylice Golden, CEO
Email: prelaunch@GigGizmo.com
Lynette DeNike, Chief Strategy Officer
Email: prelaunch2@GigGizmo.com
Website: http://www.GigGizmo.com
Crowd Fund: https://igg.me/at/GigGizmo/
Phone: 720.445.6193
Contact
GigGizmo.com
Lynette DeNike
720 445 6193
GigGizmo.com
Ylice Golden, CEO
720 445 6193

Contact