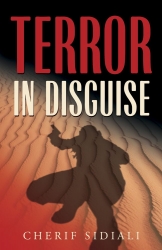 Issaquah, WA, February 09, 2008 --(
PR.com
)-- Terror in Disguise (Hexagon Blue, ISBN13 978-0-9729958-2-5) author, Cherif Sidiali, an expert on terrorism and international policy, is poised to broaden the world's understanding of what we all have in common when confronted with twisted ideologies that seek to destroy goodness.
"Terrorism is more than just a threat to humanity. It is a heartless and infectious disease that is spreading throughout the world. If not stopped, terrorism will grow to put future generations in an eternal destructive cycle of hatred and resentment." Sidiali announces. "Education and increased awareness can combat this societal illness."
"Terror in Disguise" is a unique journey into the world of terrorism. The book describes a series of related events in several countries showing how terrorists operate and how they dogmatize their views without any regards to human life. Although the characters and events in this novel are fictional, Terror in Disguise portrays a realistic account of the suffering, pain and anguish experienced by so many people as a result of global terrorism. The ideas, statements and dialogue in this book provide insight into the danger of ignorance when dealing with those who use terror and death to control others.
"The author does a good job of telling the story without prejudice in terms of religion or race. The book is well written and holds your interest throughout the story. It is a page turner and well worth the read. I look forward to seeing more books from this author as I can see a sequel to this story." -Published independent review.
Terror in Disguise is available from publisher Hexagon Blue (www.hexagonblue.com, sales@hexagonblue.com), most booksellers and from Amazon.com. Retail price is $12.95.
Cherif Sidiali is an expert on Arabic culture, terrorism, international studies, public policy, Islam and Democracy. Cherif Sidiali is a North Africa native who witnessed firsthand the social and political changes that occurred during the 1990's in Algeria as the result of terrorism and violence. Thousands of innocent people died, children became orphans and the country was under siege. Cherif's motivation as a writer stems from political, social events, and conflicts surrounding the world today. Terrorism, democracy and religious beliefs are main topics for his writings. Cherif may be contacted at author@cherifsidiali.com.
###