Arteric President and Founder Hans Kaspersetz Featured in Life Science Marketing Podcast
Veteran SEO Speaker and Panelist Discusses Foundational and Leading-Edge SEO Tactics for Life Science and Biotech Marketers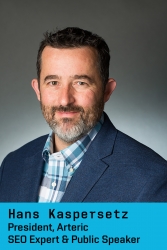 Summit, NJ, May 08, 2017 --(
PR.com
)-- Arteric (http://arteric.com), a digital healthcare marketing agency that fuses exceptional software development skill with healthcare marketing expertise to help brands connect patients, caregivers and healthcare professionals with the health information they need to live longer, healthier lives announced today that Life Science Marketing Radio (http://lifesciencemarketingradio.com/podcast/), the pre-eminent podcast for life science marketers, published "How to Establish Authority by Helping Google Understand Your Niche," presented by Arteric President and founder Hans Kaspersetz.
Following the recording of the radio show, Mr. Kaspersetz said, "Connecting laboratory scientists, clinical research teams, students and clinicians with information about protocols, equipment, reagents, scholarly work and all the other components of their research accelerates discoveries and drives profits for the businesses supporting them. We are driven by the fact that their primary research is transformative and leads to people living longer, healthier lives."
Mr. Kaspersetz continued, "Digital strategy, content strategy, Web publishing and search engine optimization are essential to breaking through the confusion and noise online and delivering a clear, persuasive educational signal. We've been fortunate at Arteric to educate brands, researchers, clinicians and scientists on how to achieve remarkable results online. Our techniques work in pharma, biotech, life science and advocacy communication that requires the marriage of high science and technology. We believe that information should be democratized. Sharing our two decades of Web development and SEO wisdom is the core of our beliefs."
Excerpts from the show:
"How do we tell better stories? How do we satisfy users' query intent more accurately? The best place to start is to see what people are actually searching for."
"We need to be thinking about where our users will be down the road, in six months, 12 months, 18 months, and where we think Google's going to be down the road, in six months, 12 months, 18 months. Then, we need to build content strategies that look that far out."
Chris Conner, founder of Life Science Marketing Radio and former head of global marketing communication for life science instrumentation companies, cites the demand for SEO strategy. "When I led marketing communication teams, I saw the impact of thorough, research-driven SEO and SEM strategies. I also observed the limitations of incomplete SEO, which is why I'm anxious to share Hans's 360-degree approach to leveraging and applying search engine research."
Mr. Kaspersetz adds, "Supporting the efforts of the life science community is a natural progression for a healthcare agency like Arteric. As a member of the board of directors for an organization that's advancing the application of personalized medicine,[1] I see how rapidly research tools like genetic analysis technologies are entering clinical use."
If you would like to connect with Hans Kaspersetz about your brand or digital communication needs, you can find him at:
· MM&M Awards, New York, October 2017 — Mr. Kaspersetz is an in-person juror
· ASCO, Chicago, June 2017 — Mr. Kaspersetz is an invited Coach at Celgene Patient Partners Learning Labs
· Digital Pharma West, San Francisco, June 2017
· Digital Pharma East, Philadelphia, October 2017
· PubCon, Las Vegas, November 2017
Listen to the podcast at Arteric.com
.
About Arteric
Arteric is a digital marketing agency built on a foundation of technology expertise — software engineering, search engine optimization and search engine marketing. Arteric develops the strategy and the software — Web sites, mobile apps, and Web applications — that drive pharmaceutical and biotechnology digital marketing campaigns and connect the public and healthcare professionals with information about life-changing therapies, technologies and devices.
About Life Science Marketing Radio
Life Science Marketing Radio helps life science, biotech and clinical research service organizations develop content marketing strategies that deliver the results that matter. The Life Science Marketing Radio podcast is sponsored by the Association of Commercial Professionals – Life Sciences, an organization that supports the professional growth and development of sales, marketing and support personnel who work with life science organizations.
[1] Transforming Medicine: The Elizabeth Kauffman Institute (http://www.transformingmedicine.org)
Contact
Arteric
Ross O'Shea
201.546.9910
http://arteric.com

Contact