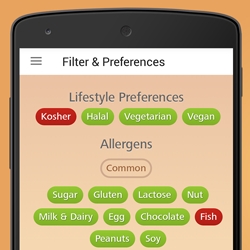 Los Angeles, CA, May 17, 2017 --(
PR.com
)-- Queensway AB's latest innovation eMenuTouch enables smart guest services on wireless and internet enabled devices to place orders and pay in remote and real time. Filter Allergens from all listed menus, display ingredients and Nutrition Facts in less than 10 seconds. Image tapping displays ingredients, Wine descriptions, notes and lifestyle preferences kosher, halal and vegetarian.
eMenuTouch allow pre-order and in-seat ordering for Restaurants, Hotels, Stadiums, Cruise Lines, Railways, and Special Events on any Wi-Fi enabled smartphone or tablet.
Keep your eye on the ball with the Stadium app: check in to a stadium using a digital barcode or NFC device and following the track to your seat. One feature to look out for in the future is Food and Beverage delivery using drones.
eMenuTouch enables hospitality providers to develop a custom menu of food and services available for order, and then completes the order and payment using any smart device. It allows the guest to shape their own fancy in their own time, without having to look around for order staff, tap for the steward service.
Feedback:
www.queensway.se/products/emenutouch/subscribe.wfx
All guest service experiences are a system of activating, deactivating, and thereby customizing the different services provided. The system functions on single venue, multiple venues on 1 location and multiple venues on domestic or worldwide locations. All Guest services are free for the guest as end user from the vendor.
Imagine a menu on your smart device that lets you pre-plan your business lunch or family dinner in a process: table reservation, date and tie, pre-order, table-side order. And imagine that taking place wherever you might be: table-side, poolside, hotel room, cruise cabin, in-seat stadium, cinema, or theatre.
From the steward's perspective, the menu enables customizing the services to provide upselling and cross-selling opportunities, and to easily respond to things such as changing tables, repeating orders, or splitting a bill.