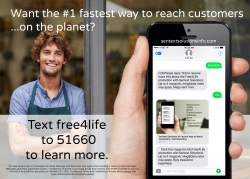 Buffalo, NY, May 17, 2017 --(
PR.com
)-- In the emerging world of inbound and social marketing, text marketing fits into many arenas. Since the average person touches their mobile device 2700 times a day, according to a recent study by dscout, it only makes sense for marketers to tap into this. The texting app is already available to each and every mobile device user. It is the most widely used app on all phones.
For a flat monthly fee, you can use a short code texting service to mass message customers who have opted in to receive them. Sentext Solutions currently works with over 10,000 merchants thanks to its National Force of Independent Marketing Agents. Sentext Solututions is into it's 7th year of business, and sends out over 7 million messages a month to 2.5 million consumer subscribers.
In order to expand it's book of business, Sentext Solutions has created a FREE4LIFE promotion. Using their existing merchant base, they would like to encourage their current customers to refer them to their colleagues and local businesses. Existing customers on their Unlimited Program, (pricing varies by business volume) can refer new businesses for a 25% reduction in their monthly platform fee. You can use this 4 times per location and your 4th referral gets you the FREE4LIFE Status.