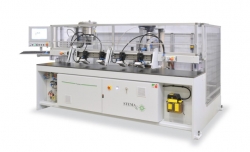 Las Vegas, NV, May 17, 2017 --(
PR.com
)-- Stema has built the ultimate CNC machine for the glue-less, tool-less, Lockdowel assembly system just in time for VTM, the exclusive provider of Stema in the United States, to launch it at the 2017 Association of Woodworking and Furniture Suppliers Fair (AWFS) July 19-22.
According to VTM officials, the new Stema CNC machine for Lockdowel offers true flexibility and more customization than any other. Simultaneously it can insert the standard 20mm Lockdowel Eclips fastener, as well as the new 5mm Eclips fastener and 5mm spring pin. See this first-hand and in action at VTM booth 7426 at the AWFS Las Vegas Fair July 19-22.
"Stema has not only designed a machine, but a system that with a few simple changes, transforms and personalizes according to the analysis we make customer per customer," Ed Moran President and CEO of VTM says. "The Stema Lockdowel CNC system consists of a solid base that can be easily stretched to create different working fields, while maintaining its solidity. This can be equipped with different machining groups--four to nine independent spindle heads that can work on the edges of the panel or main faces. It also offers right and left rotating electro-spindles, which can be mounted vertically, horizontally and at a specific angle, as well as groups for inserting fittings on request and on customer specifications like wooden dowels, metal pins and PVC accessories."
Moran adds that the flexibility of the Stema mechanics matches the versatility of electronics and software that VTM has developed internally with a team of engineers on a commercial platform--no longer tied to a numerical control but rather to a PLC communicating with its devices through a network EtherCAT. The user is no longer limited to a number of controlled axis and distributed I/O devices on system groups, allowing for much more design freedom and creation possibilities.
"Stema offers Italian engineering that enables the manufacturer to realize the full potential in their factories," Moran says. "The customer who chooses Stema is the customer who asks for a machine built for its needs and not a compromise between a standard machine and its real needs!"
"VTM's expertise is in being able to offer ideas to increase productivity, plan projects from the beginning and build and install exactly the right machines to achieve the results the manufacturer wants. We are a small but very experienced team that can move very quickly to realize projects, transforming factories, reducing labor and automating production," Moran says.
Features for the Stema Tabit Lockdowel CNC Machine include:
-Heavy steel frame -- The working bench is mounted on a heavy steel frame, completely free of restrictions on both sides so that it is possible to work exceptionally long pieces.
-X axis -- Movement of the axis is made by a brushless motor on the pinion-rack with tilted teeth. Working stroke 0-1300 mm: Speed 90 m/min.
-Y axis -- The vertical movement of the axis is made by an endless screw with re-circulating ball nut. Programmable speed: Speed 30 m/min.
-Z axis -- Movement of the group for the hole depth is made by a re-circulating ball axis on a double carriage. Programmable speed: Stroke speed 30 m/min.
-Automatic Lubrication of Moveable Parts
-Flexibility and Customization --This new Stema CNC can be easily customized to offer single stand alone type machines; work cell type configuration machines; or fully automated, in-line type machine centers, with the drilling and insertion capabilities at hi-speeds.
-Dust Wood Conveyor -- Equipped with an aspiration tube where the customer can link to the main tube of factory's aspiration plant.
-PC Control Panel:
· Personal computer WIN 7 for the installation of the supervisor software
· Screen mouse and keyboard
· USB key for data loading
· License Edit 32 for editing programs in office
· Easily Interfaces with all of today's architectural design software for furniture
· Users can call up the individual program or the list of programs by the keyboard or a barcode reader.
About VTM
VTM is the trusted partner in precision woodworking machinery; providing over 50 years of knowledge and experience. VTM is the exclusive provider of Stema Machinery in the United States. In addition, VTM provides Fravol, Masterwood and CNC edgebanders, machine centers, hot air edge banding and dust extraction systems. With VTM's innovation in technology and solutions, we offer unparalleled world class services and solutions—like no other! VTM, Las Vegas, Nevada-- 1.702.721.1211 www.vtmmech.com
About Lockdowel
Lockdowel provides fasteners, drawer slides and hinges for fast and easy installation of cabinets, furniture and architectural millwork. Patent pending. Lockdowel 48834 Kato Road #110A Fremont, CA 94538; (65) 325-8732 www.lockdowel.com Come to Lockdowel booth number 9256 at AWFS to see the fastest, glue-less, tool-less, RTA assembly solutions today!