925 Entertainment LLC Announces the Release of "Get Up," a New Single from "Bhey" Written and Produced by Narada Michael Walden
Music performance from The 925 Band, produced by Tommy Merry Film Productions.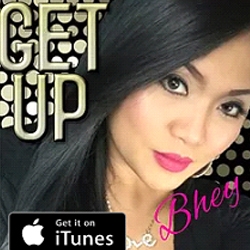 Brentwood, CA, May 26, 2017 --(
PR.com
)-- 925 Entertainment LLC today announced the release of "Get Up," a new single performed by "Bhey" that was written and produced by Narada Michael Walden. Get Up was originally released in 1980 by Atlantic with Walden on vocals, drums, percussion and piano. On bass was the well-known artist Randy Jackson, as well as a cast of many other famous musicians. The hit single has been reproduced by Walden for Bhey and The 925 Band in a contemporary pop style, and has been re-released to the public. The single is available on iTunes and the video can be viewed on YouTube at https://youtu.be/mL5LfO2xfJI and the California Music Channel.
Annabelle ("Bhey") McMurtrie has been singing since the age of nine. Her career started at an early age by entering and winning multiple singing contests. In high school and college, she joined a band that performed at school functions and other local venues. She was a musical scholar at her university, while in the school choir during her college years. Bhey has toured all over Asia and the Middle East, touring with professional bands. Bhey is currently touring and performing with The 925 Band throughout Northern California.
The song's producer, Walden, who has produced hits for artists as diverse as Aretha Franklin (including the platinum "Freeway of Love"), Steve Winwood, Ray Charles, Wynonna Judd, Whitney Houston, George Michael, Mariah Carey, Barbara Streisand, Lionel Ritchie, Lisa Fischer, Stevie Wonder, Tom Jones, Jeff Beck and The Temptations, the EMMY and multi-GRAMMY winner (Producer, Album and Song of The Year) has been at the helm of hit music that spans decades.
About 925 Entertainment LLC
925 Entertainment Group is an event planning, promotion and production company. The company specializes in planning and producing live music events for corporate engagements, parties and other specialized events in the San Francisco Bay Area. 925 Entertainment is Partnered with Winners Circle to Manage Promotions.
About Narada Michael Walden
Michael Walden, is an American producer, drummer, singer, and songwriter. He was given the name Narada by guru Sri Chinmoy in the early 1970s and his musical career spans three decades, in which he was awarded several gold, platinum and multi-platinum awards. Walden has also owned and operated Tarpan Studios, a recording studio in San Rafael, California, since the mid-1980s.
About Tommy Merry Productions
Tommy Merry is a film/video director dedicated to enriching humanity through uplifting, narrative and documentary films. Tommy Merry Productions also directs music videos, corporate videos, promotional pieces and offer camera operators, video editors and motion graphics artists, for corporate video, post production and web videos.
Media Contact
Joe Kieren | 925 Entertainment LLC
1 925 819 0118
Contact
925 Entertainment
Joe Kieren
925-819-0118
www.925entertainmentgroup.com
Dave Reik
d_reik@hotmail.com

Contact