Arteric President and Co-Founder Hans Kaspersetz to Judge 2017 MM&M Awards
Veteran Digital Strategist and SEO Authority Will Serve as In-person Juror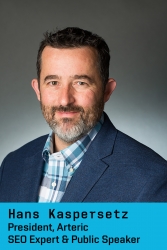 Summit, NJ, May 31, 2017 --(
PR.com
)-- Arteric (http://arteric.com), a digital healthcare marketing agency that fuses exceptional software development skill with healthcare marketing expertise to help brands connect patients, caregivers, and healthcare professionals with the health information and tools that patients need to live longer, healthier lives announced today that Arteric Co-founder and President Hans Kaspersetz will serve as a live juror to help select recipients of 2017 Medical Marketing and Media (MM&M) Awards.
The MM&M awards are among the most respected in the healthcare marketing industry. Agencies from around the world compete in nearly three-dozen categories to determine best-in-class media and brand programs, outstanding visual and strategic creativity, and exceptional performance within agency teams.
Lauren Hawker, one of the competition's organizers, describes the jurors. "Each year, the MM&M Awards celebrate the outstanding creativity and effectiveness in healthcare marketing and communications and convene an elite roster of industry leaders and luminaries — and our esteemed jury is perhaps among the most noteworthy of all participants. Serving as a juror offers an unprecedented opportunity to review some of the best work and recognize some of the brightest individuals in the healthcare marketing community today."
An accomplished speaker on Web development and search engine optimization in healthcare marketing, Mr. Kaspersetz served as an online MM&M juror in 2014, 2015, and 2016. As Mr. Kaspersetz describes, "Serving as an online juror was exceptionally rewarding.
Discussing and debating the approaches behind the next generation of best practices
in person with the industry's creative and strategic elite is undeniably icing on the cake."
As a juror, Mr. Kaspersetz's combines SEO and Web-development thought leadership with two decades of digital-strategy experience building and launching healthcare brands to evaluate campaigns from the viewpoints of audiences, search engines, and the creative and technology teams that bring campaigns to life.
Mr. Kaspersetz continues. "There's tremendous value in gathering with talented peers to analyze the industry's latest thinking and gauge where it's heading. Selecting the best work and celebrating at an event puts everyone on notice to the new standards. The cliché is that a rising tide floats all boats. As we become better, more-efficient, and more-creative communicators, we ultimately enhance the entire industry's ability to connect with patients and healthcare providers. As jurors, we establish new baselines and drive innovation and creativity industry wide."
The awards ceremony takes place in Manhattan on October 19, 2017. Learn more at http://www.mmm-online.com/awards/.
About Arteric
Arteric is a digital marketing agency built on a foundation of technology expertise — digital strategy, software engineering, search engine optimization, and search engine marketing. Arteric develops the strategy and the software — Web sites, mobile apps, and Web applications — that drive pharmaceutical and biotechnology digital marketing campaigns and connect the public and healthcare professionals with information about life-changing therapies, technologies, and devices.
Contact
Arteric
Ross O'Shea
201.546.9910
http://arteric.com

Contact