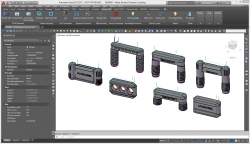 Orlando, FL, June 07, 2017 --(
PR.com
)-- CIM-TECH announces its Router-CIM program now enables CNC machines to cut and insert glue-less, tool-less Lockdowel Eclips assembly system. Any Router-CIM customer can insert Lockdowel Eclips drawings into their 2D or 3D design, or rely on parametric placement of Eclips fittings by Router-CIM itself to generate the Numerical Control (NC) code for their specific CNC machine. Router-CIM customers can download construction methods and Eclips fitting placement drawings and specifications directly from the Lockdowel website: lockdowel.com
"From our website we include the Lockdowel link that transfers a model, assembly, or drawing view directly into Router-CIM—allowing the user to cut solid models right inside AutoCAD or Mechanical Desktop," Kenny Belfatto, CIM-Tech Sales Manager says. "Router-CIM will pick up the cutting depth directly from the solid model."
For 30 years CIM-Tech has been offering CAD/CAM software for CNC machines. Today Router-CIM Computer Integrated Manufacturing offers:
• Tool paths created and saved inside AutoCAD for Lockdowel's Eclips fittings
• All AutoCAD's commands on the tool paths; No need to DXF out or save drawings to an older version of AutoCAD
• All tool paths stored on separate layers, so the DWG contains both design and manufacturing data
• Only one system to learn and use; combined design and manufacturing makes for a reduced learning curve
• 80% of CAM commands are also CAD related commands
• Router-CIM unified design and manufacturing command set
• A single database for design and manufacturing, and simplified file structure and edits
• Better designs because drawings are "fixed" for manufacturing
• Custom design standards that can be integrated into manufacturing standards
• Router-CIM data stored in the industry standard DWG file format
• Seamless integration within AutoCAD including an updated ribbon style toolbar
• Improved materials database functionality allowing for easy export/import, material reports and material editing characteristics
• Advanced Scrap Management giving you the option to select scrap variables in a multitude of ways
• Router-CIM post processors available for virtually all machine controllers--supporting the most complex machinery
• Powerful advanced nesting features that are only available in Router-CIM
• Custom written software can reduce the number of steps between design and manufacturing
• Parametric macros included, and you do not need to be a VB programmer to write them; over 40 MDF door macros and 20 millwork macros are included
• Multiple data sources and types: DWG, DXF, macros, 3D solids, surfaces, ellipses, splines, text and more
"CIM-TECH's Router-CIM has stood the test of time and is a stalwart solution used by more than 10,000 customers," Lockdowel CEO Stephen Macdonald says. "Lockdowel is delighted CIM-TECH added our Eclips fittings to RouterCIM, extending the power of Lockdowel Eclips lean manufacturing method further into the panel manufacturing industry."
Lockdowel's Eclips-Lean Manufacturing is the leanest panel manufacturing process available today. CNC edge drill and insertion is one of the three key components of Eclips Lean Manufacturing. The Lockdowel-Eclips Lean Manufacturing system includes:
• CNC router (table, or vertical to route Eclips key-holes in the panel face)
• Edge bander (edge band as needed)
• Pillar-HPLD-Eclips drill & insertion machine (drill 8mm holes on the panel edge and insert either the Eclips Channel Lock, or H-Clip)
Note: the "case clamp, glue, screws" are no longer required. This is a huge savings in manufacturing space and labor.
Lockdowel Eclips is the revolutionary, glue-less, tool-less, easy and fastest assembly fastening-system that also created the "leanest, least costly, form of case goods manufacturing ever designed and implemented." Lockdowel Eclips cabinet construction methods comply with ANSI, BIFMA, WI and AWI Certification standards.
About CIM-TECH
Established in 1986, the founders of CIM-TECH realized that a CNC machine was only as good as your ability to program it. Computer Integrated Manufacturing (CIM) was needed to bridge the gap between Computer Aided Design (CAD) and Computer Aided Manufacturing (CAM). CIM provides for a seamless solution with a common interface for design and manufacturing. From this basic concept a new company was created, CIM-TECH. 7512 Dr. Phillips Blvd., Suite 50-859, Orlando, FL 32819; 407-219-9346 - info@cim-tech.com; www.cim-tech.com
About Lockdowel
Lockdowel provides fasteners, drawer slides and hinges for fast and easy installation of cabinets, furniture and architectural millwork. Patent pending. Lockdowel 48834 Kato Road #110A Fremont, CA 94538; (650) 325-8732 –smacdonald@lockdowel.com; www.lockdowel.com Come to Lockdowel booth number 9256 at AWFS to see the fastest, glue-less, tool-less, RTA assembly solutions today.