"Athletes Sacrificing Health for Wealth and Fame": New Book Proves It's Far More Than Concussions in Football
"The Athlete's Dilemma: Sacrificing Health for Wealth and Fame" (Rowman & Littlefield, June 2017)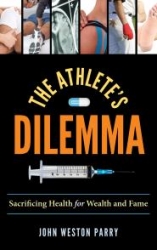 Silver Spring, MD, June 20, 2017 --(
PR.com
)-- Football, hockey, baseball, basketball, soccer, Olympic sports, tennis, and golf place elite athletes at heightened risks for mental and physical impairments, addictions, and substance abuse. Professional leagues, colleges, and Olympic organizations do little to intervene, either while these modern-day gladiators compete or once their careers are over. Sports enterprises look the other way or pretend these health risks do not exist or are less serious than medical experts warn. The NFL, MLB, NCAA, NHL, IOC, USOC, and FIFA, in particular, are much more concerned with profits and wealth than the long-term welfare of elite athletes and the youngsters who jeopardize their bodies and minds trying to become elite.
"The Athlete's Dilemma: Sacrificing Health for Wealth and Fame" (Rowman & Littlefield, June 2017) (hardback, 364 pp) by John Weston Parry examines health risks in the sports Americans (and Europeans) most like to watch and play. The book provides reasonable options that athletes, parents, educators, health providers, policy makers, and legislators can embrace without increasing subsidies, which federal and state governments already devote to these sports. As Parry explains, "if the money the public pays to professional leagues, universities and colleges, and Olympic organizers to build extravagant facilities for sporting events were used to protect athletes, many - and perhaps most - of these health risks could be substantially reduced. Too many of our favorite spectator sports are needlessly and/or recklessly dangerous."
"The Athlete's Dilemma" consists of 24 chapters divided into four parts:
-Pain, Injuries, Drugs, and Team Doctors
-Performance Enhancing Substances: The Perilous Search for the Holy Grail
-Physical and Mental Impairments
-Why Elite Athletes Sacrifice Their Health
A conclusion sets out substantial organizational changes to better protect athletes' health.
The early reviews are unanimous that "The Athlete's Dilemma" should be widely read:
Publishers Weekly ("an excellent volume…[that] should be read by athletes, managers, and sports administrators at all levels.")
Fred Bowen, Kids Washington Post ("John Parry asks hard questions about… performance-enhancing drugs, concussions, and how professional athletes and big-time college players are treated.")
Harold J. Bursztajn M.D., neuro-psychiatric expert and Associate Professor Harvard Medical School ("a wonderfully readable tour de force… on the dangers of athletic cutthroat competition.")
Ken Reed, Sports Policy Director, League of Fans ("The Athlete's Dilemma builds a compelling case that numerous health-related crises are impacting athletes.")
Mark H. Anshel, Professor Emeritus, Middle Tennessee State University ("an insightful and revealing expose about … [the] treatment of athletes during and after their sports careers.")
Parry is a lawyer, author, and host of a website and blog: sportpathologies.com. As the former director of the American Bar Association's Commission on Disability Rights, he has written and edited numerous books and articles on mental disability and health law, diversity, and the rights of persons with disabilities. He also is a recipient of the Manfred Guttmacher Award from the American Psychiatric Association and the American Academy of Psychiatry and Law.
"The Athlete's Dilemma" is available in hardback ($36) or as an ebook ($34) from Rowman & Littlefield Publishers:
https://rowman.com/ISBN/9781442275409/The-Athlete's-Dilemma-Sacrificing-Health-for-Wealth-and-Fame
. For more information, please contact John Parry or go to sportpathologies.com/book.
Contact
Sportpathologies.com
John Weston Parry
301-445-2137
sportpathologies.com

Contact
Multimedia
Table of contents for The Athlete's Dilemma: Sacrificing Health for Wealth and Fame