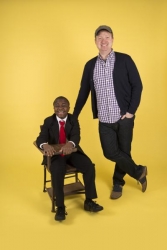 Walnut Creek, CA, June 22, 2017 --(
PR.com
)-- CUE 2017 Fall Conference to be held October 27-28 at American Canyon High School in Napa Valley.
Brad Montague will deliver the Opening Session and Keynote on Friday, October 27, from 8:30 - 9:30 am. Montague is an award-winning writer and director working to creatively communicate hope to children of all ages. He is the creator of Kid President, which began its life online and has grown into a New York Times bestselling book, television series, and movement for good around the world. He is also the force behind such movements as "Socktober" - an annual social campaign designed to help connect communities to their local homeless shelters, #BecauseYouWere – a movement inviting people to celebrate the mentors who believed in them long before it made sense, and Montague Workshop, a creative studio dedicated to developing projects that inspire and encourage kids and former kids.
Currently, Montague is involved in "The Listening Tour," a project aimed at listening to and amplifying the voices of elementary school students across the world. The tour originally aimed to connect only schools in the United States, but the project quickly grew when more than 3,500 classrooms around the world asked to take part.
Brad will be available to sign books from 11:30 am - 12:30 pm Friday, October 27th on the 1st floor at the CUE Gear Store (A103, Administration Building).
Pernille Ripp, the expert in literacy and technology integration and founder of The Global Read Aloud (GRA) will be the Closing Keynote speaker on Saturday, October 28 at the CUE 2017 Fall Conference. As this conference always sells out quickly, register soon at http://www.cue.org/fall.