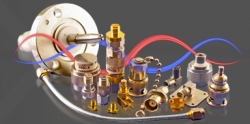 Stuart, FL, June 27, 2017 --(
PR.com
)-- A leader in the RF connector and cable assembly industry, Coaxial Components Corp.(Coaxicom) is pleased to announce a new representative in the New England area, Kitchen & Kutchin, Inc.
Beginning in July, 2017, Kitchen & Kutchin, Inc. (K&K), based in Woburn, will be Coaxicom's full-service Manufacturing Representative in New Hampshire, Maine, Connecticut, Rhode Island, Vermont and of course, Massachusetts.
With over 55-years of operating history, and led by President Jim Kutchin, Kitchen & Kutchin is well-known throughout the region for leading-edge solutions and strong customer service.
"We strategically focus on the market. We also understand and assimilate to new technologies-always looking toward the future. Our ability to grow along with our customers is just one of the reasons we have such great customer retention. Whether it is Raytheon within the military/aerospace sector, or Keurig, and Bose in the consumer market, our mission is to provide expertise not often found at other companies," states Jim Kutchin.
Coaxicom is headquartered in Stuart, Florida and continually expands its depth of RF/Coaxial product lines including connectors (all-series), cable assemblies, adapters, terminations, phase adjusters, attenuators, transition pins, and torque wrenches, as well as specialty parts including non-magnetics. The addition of Kitchen & Kutchin will make these in-stock or custom products even more accessible to a greater number of companies.
Kitchen & Kutchin, Inc. can be contacted by visiting kitchenkutchin.com or calling 781-782-0700; they are also officially listed on the Distributors and Representatives page of Coaxicom.com.
Coaxicom at a Glance
Coaxicom designs and manufactures an extensive line of precision RF and microwave components since 1984. Proudly serving customers in industries such as medical, instrumentation, aerospace, defense, telecom, wireless, and alternative energy as well as several national laboratories just to name a few. Coaxicom also offers world-class manufacturing capabilities necessary to deliver the quality and reliability our customers demand including military specifications and requirements.