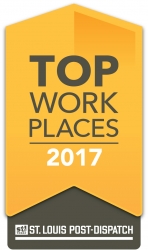 Saint Louis, MO, June 27, 2017 --(
PR.com
)-- Southwestern Hearing Centers was awarded a Top Workplaces honor for the second consecutive year by the St. Louis Post Dispatch.
After winning in 2016, Southwestern celebrated with a company wide picnic. They also implemented several programs to ensure employee well being. Vice President Brian Marino believes success starts with top-notch employees. "In our 70 years in business, we have found that when our team enjoys coming to work everyday, our patients, in turn receive better care," Marino explained. "Investing in our employees is a no-brainer."
The Top Workplaces lists are based on the results of an employee feedback survey by WorkplaceDynamics, which measures workplace culture in over 3,000 nominated companies. The 2017 survey assessed responses about employee happiness in 6 key-areas including alignment, execution and connection. The award winners were announced Sunday, June 25 in the St. Louis Post Dispatch. For the second year in a row Southwestern Hearing was the only hearing aid company in America to be honored.
Southwestern Hearing is very proud to be recognized as a Top Workplace, competing with thousands of other wonderful St. Louis organizations for the distinction.
"We are lucky to have such a passionate group of hearing care providers working for us," Marino said. "In our industry we put 100% of our focus on patient care, but that doesn't mean our employees are forgotten, without them we wouldn't be able to touch so many other lives." Southwestern Hearing has helped more than 250,000 people improve their lives with better hearing.
About Southwestern Hearing Centers
Southwestern Hearing is a family owned business with 70 years experience in the hearing industry. At Southwestern we believe your quality of life directly relates to ability to hear. That's why we believe in finding a way to bring back your hearing. We are completely dedicated to ending the struggles of hearing loss, and making your world a better place to live. Our 65 convenient offices can be found in communities across Missouri, Illinois, Indiana and Kansas.