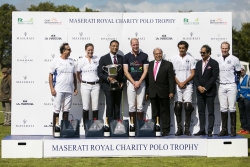 Dubai, United Arab Emirates, June 26, 2017 --(
PR.com
)-- Premium, award-winning, luxury jewellery house Dhamani 1969 has supported two British charities - Fields in Trust and Child Bereavement UK – both of which have Prince William as Patron. The charities are benefiting from funds raised through the annual Maserati Royal Charity Polo Trophy, which took place at Beaufort Polo Club in Gloucestershire on June 11th, 2017.
The polo match took place in front of several thousand spectators, with the Dhamani 1969 team headed by the Maharaja of Jaipur and the Maserati Polo Team including Prince William. After a tight-fought match the final result saw Dhamani 1969 take victory with a score of 7 goals to 6 1/2.
"We are thrilled to partner with Maserati to support the work of Field in Trust and Child Bereavement UK and their important contributions to the well-being of the community. Since the establishment of the House of Dhamani in 1969, we have been committed to participate actively in initiatives that improve the quality of life and strengthen human bonds for good wherever we are present," said Amit Dhamani, CEO and Managing Director of Dhamani 1969.
"This has been possible because of the passion and dedication we have to create outstanding jewellery with the rarest, most brilliant stones and perfect cuts. The art of creating beautiful jewels is even more meaningful to us if we can assist efforts of this kind, based in generosity and goodwill, that have always been essential values for our family," added Mr. Dhamani.
He concluded that, "It is exceptional to have the opportunity of supporting these two organisations while enjoying this great sport in such an illustrious company at the scenic Beaufort Polo Club."
About Dhamani 1969
Recognised for bringing timeless exoticism to the world of fine jewellery, Dhamani 1969 is synonymous for the best quality gems, creative and elegant designs combined with outstanding personal service.
Behind Dhamani 1969, there is a deep family passion with an eye for identifying extraordinarily faultless jewels in the rough, and the artistry to bring them to life. Dhamani 1969 offers its international clientele some of the most unique jewels in the world as the brand is the sole right holder of the Dubai Cut Diamond and it is part of the exclusive list of Argyle Pink Diamonds Selected Ateliers.
From its headquarters in Dubai, Dhamani 1969 conceives jewels that are developed by a team of Italian and French recognized designers, and manufactures each creation in its atelier in Italy.
For over 40 years, the brand has retained its eminent position as jewellers to royalty, high society influencers, celebrities and those that appreciate the finest standards of dazzling craftsmanship.
The opening of its flagship store in 2014 in Dubai, a truly cosmopolitan city, and the announcement of the exclusive relation with Argyle Pink Diamonds marked the first major steps towards positioning Dhamani 1969 on a global platform, further supported with its planned global expansion starting with London and Singapore.
www.dhamani1969.com