QianHaiLanYue Tech Makes Breakthrough with Muscle-Mapping Wearable That Will Change Fitness
The Wearable That Makes Fitness Easy to Do, Trace & Understand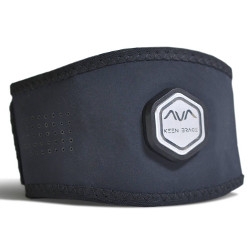 Palo Alto, CA, July 04, 2017 --(
PR.com
)-- Fitness is defined as the quality or state of being fit. According to Wikipedia, fitness is now considered a measure of the body's ability to function efficiently and effectively in work and leisure activities. But how do you measure, to be efficient and considerd effective?
Born after several failed relationships with previous fitness trackers, QianHaiLanYue Tech, based out from Shenzhen, China, made the breakthrough with KeenBrace. A fitness wearable that is designed with a smart algorithm that analyses its user (quality), learns about its user (effectiveness), and guides its user to be their best (efficiently).
The First Fitness Wearable to Feature Muscle-Mapping Technology.
The general advice on "how much exercise should you do" has always centered on not exercising too intensely or too frequently that it would put stress to one's system. But what is the right amount that denotes too intensely or too frequently?
With KeenBrace's Muscle-Mapping technology, fitness enthusiasts now have that tool to help them understand how their own body is reacting to their activities, and what is actually happening internally.
Key Benefits derived from KeenBrace are:
1. Injury Prevention
With real-time risk assessment analysis and warnings based on the pattern of your movements, you are able to be notified before disaster strikes. If you have ever injured yourself before, it can be harrowing to face another routine.
2. Enhancing Your Performance
No matter what your activity levels are, you can see where your progress is going, and be sure you are working toward your goals. You can be certain now about how your muscles will respond and how they are recovering from different movements you are doing.
3. Mixing it Up, For Growth
With over 15 exercises programmed, KeenBrace's real-time voice coaching will notify you when it is time to begin, or stop and switch to another routine. This creates a well-balanced, strong and stable built.
4. Train Anywhere, Anytime
Whether you are running or cycling or lifting in the gym, KeenBrace works together with you. With its Flexi-strap that can be strapped on the thigh or arm, you can now create an intelligent combination for a perfect workout, even in the rain.
The Inner Workings of KeenBrace
With advance motion and bio-sensing technology, KeenBrace works by reading electrical signals sent by the body during workouts. It tracks and monitors 15 elements of the user's performance which include muscle fatigue, muscle activation and movement techniques.
One of the primary systems inside is the sEMG, which stands for Surface Electromyogram, which assesses muscle functions by recording muscles activity from the surface above the muscle on the skin.
All these data are then transferred and sync via Bluetooth from the KeenBrace Core to the App on your device or phone. Voice coaching instructions such as cadence are also delivered via the free app, available for Android and iOS (iOS will be available this fall).
Where Can One be Obtained?
KeenBrace is not available, as it has not been officially launched to the market. But they have been causing a stir among the panel of fitness enthusiast who are testing it with its effectiveness and efficient use of the data collected.
They are in the final preparation stage to officially unveil it on Indiegogo at 12:00pm (CET) July 5th 2017. Sign up at www.keenbrace.com to grab their limited Super Early Bird offer of $59 on launch day.
They Are Excited
"KeenBrace muscle-mapping technology is the fitness wearable everyone has been asking for, but missing in the market. Our device has the potential to be used in a wide range of scenarios and holds major potential and opportunities for the sports and active lifestyle market. KeenBrace offers the easiest and most accessible way to muscle-mapping, and is a true landmark of what fitness wearable is capable of. This could be the future of fitness wearables."
- Ken Leung, Founder CEO
For in-depth information, images and sample requests please contact:
Ken Leung
Ken[at]KeenBrace.com
Related Videos:
https://youtu.be/2nNtmtH7e14
https://youtu.be/ckgU2suVk1A
https://youtu.be/aT0GcwwtP7w
https://youtu.be/q8jhIFeri6s
Contact
QianHaiLanYue Tech
Ken Leung
08613528761165
keenbrace.com

Contact