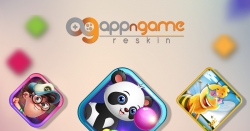 New York, NY, July 07, 2017 --(
PR.com
)-- After the successful launch of AppnGameReskin.com, an Apps Marketplace from Norway in co-operation with development studio from East Asia by the management team of Mobile Publishers & Developers; AppnGameReskin is now capturing market share rapidly by bringing new & irresistible features for its users.
It's AppnGameReskin's mission to empower the global mobile developer community by providing them tools to sell their source codes, develop a reputation, innovate and create new games.
AppnGameReskin is a one-stop destination for anyone dreaming of launching an App, a wide audience of developers & technology startups are welcomed by publishing hundreds of high quality App Templates in a couple of months. AppnGameReskin has democratized the app business with an easy and effective app creation model, allowing everybody to build their app portfolio from scratch in a very short timeframe and also allow vendors to publish Quick Launch Apps for sale.
Every developer wants to earn huge income by selling their Apps source code on marketplaces those offer several benefits & high commission to their vendors, therefore AppnGameReskin is offering up to 80% earning on sales & aggressive promotion for their products through Paid & Organic marketing channels. AppsSpin, one of the exclusive authors at AppngameReskin says, "I have made over $4300 by selling my Apps templates in just 2 weeks."
AppnGameReskin model is highly profitable for developers as they can earn money by licensing their app projects unlimited times on very reasonable pricing. AppnGameReskin's mission remains to build the largest marketplace dedicated to serve all the needs of App developers, Entrepreneurs and Publishers around the World.
A treat for all! Good luck promoting your App.