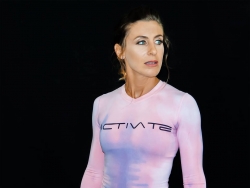 Moreno Valley, CA, July 14, 2017 --(
PR.com
)-- Meta Wear LLC, the sport apparel brand behind the idea of introducing a color-changing active wear for athletes and fitness enthusiasts has finally gone live with their Indigogo campaign. The fund-raising campaign is giving everyone a chance to turn the idea into reality.
The campaign will raise funds for the Activate line of color changing workout clothes. The clothes are designed with a special thermos-chromatic technology and provide visual cues as to what is working on the muscles and what isn't. The shirt changes color to show which muscles are getting the most out of the workout.
Expressing his excitement over the response garnered by the campaign so far, the spokesperson for Meta Wear said, "There is hardly any way for athletes to track their vitals and performance in real time. The existing methods always involve expensive equipment such as special shoes, bracelets and other monitors. With our color changing active wear, we are putting an end to a problem plaguing the pleasure of workout for ages."
Introduced by Stephaon Burney, the concept of color changing apparel was hailed by many athletes and fitness enthusiasts. Stephaon is certified with National Academy of Sports and Medicine (NASM) and a specialist in Corrective Exercise and Performance Enhancement.
The color changing active wear by Meta Wear doesn't require any cables, wires or application downloads and shows a thermal image of the body in real-time. Being able to view a thermal image of muscles enables an athlete to maintain focus on the muscle groups and gain better results. Gym lovers who have reached their peak and face a reduced rate of growth can shatter their boundaries by targeting specific muscles and analyzing results in real-time.
"Meta Wear is not going to be some flash in the pan apparel that slowly drafts away into the night. There is one Active line called Activate that registers body heat. The Ebb & Flow is another line that works the opposite of Activate. And third line called Sway that combines the benefits of both. Overall, there will be roughly 15 generations or variations of this apparel," the spokesperson added.
Reflection on the anticipation of the color changing workout clothes shows that the total funds required are expected to be collected before the end of the 40-day campaign time. The Indiegogo campaign goes live on 7/12/2017 to raise around 15k. This is the first opportunity to grab the perks and show support.
For more information, please visit metawearapparel.com
About Meta Wear LLC:
Meta Wear is an active wear brand known for introducing the concept of Color Changing workout clothes (Active Wear) and Thermal Chromatic Apparel. Their thermo-chromatic technology provides a heat map on a person's body which outlines the muscular metabolism. The company has just launched an Indiegogo campaign to fund the production of their innovative lineup.