Festivals of Speed Expands Into Georgia with Inaugural Alpharetta Event. 150+ Exotic Cars and Motorcycles Set for Display.
The inaugural Festivals of Speed at Avalon in Alpharetta, Georgia is set for Sunday, October 8th Over 150+ exotic cars and motorcycles are expected for display on the boulevard. Automotive manufacturer Ferrari which is celebrating a 70-year anniversary will be a featured marque. In addition, the Porsche 928 model which also has it's 40-year anniversary will be spotlighted as well.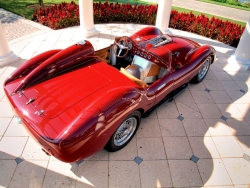 Alpharetta, GA, July 17, 2017 --(
PR.com
)-- March 12th, 1947 was the date that Ferrari founder Enzo Ferrari started the engine of a 125 S, the first vehicle to bear his name. Seventy years later Festivals of Speed will be celebrating these and other achievements by organizing special displays featuring some of the world's most powerful and elegant Ferrari sports cars. Both vintage and contemporary examples will be on display. Examples include but are not limited to Ferrari La Ferrari, Ferrari Enzo, Ferrari 275 as well as many others.
Festivals of Speed, which for the last fourteen years has showcased the world's most exotic automobiles, motorcycles, aircraft, watercraft and luxury brands throughout Florida has decided to join the Ferrari celebration by featuring the brand at the Avalon event in Alpahretta, GA. Company founder Joe Sabatini had this to say, "Ferrari has always had a special place in our heart at Festivals of Speed. With their rise from the ashes of world war II to what we all know it as today is an incredible and inspiring story." Special displays will be in place to show the history of this vaunted manufacturer. Both vintage and contemporary examples will be displayed. All Ferrari owners to display free at the event.
When asked about the expansion in Georgia company founder Joe Sabatini had this to say, "Atlanta is a key region in the collector car world offering a wide variety of vintage and contemporary cars as well as a fabulous setting. When we were searching for a location to operate at, the Avalon development made for an easy choice with its luxury retail stores, elegant boulevard and a sophisticated atmosphere. We have a separate event location that will be announced soon for another project."
The itinerary for the weekend is as follows:
Luxury Lifestyle Cocktail Reception, Avalon at Alpharetta.
Saturday, October 7th 2017 8:00pm – 11:00pm
The Luxury Lifestyle Cocktail Reception will feature a display of vintage and contemporary exotic cars, motorcycles and luxury brands. It will take place at Avalon in a location still to be determined. The facility will be transformed into a luxurious display with over 250 guests enjoying gourmet culinary offerings, premium brand open bars, fine wine and spirits tastings, a live band, luxury brand displays and more.
Festivals of Speed Motorsports Display at Avalon in Alpharetta on the boulevard.
Sunday, October 8th 2017 10:00am – 4:00pm Admission is in the form of a suggested donation to the charity. This exquisite motorsport display will showcase the world's most exotic cars, motorcycles & luxury brands all placed for display on the elegant boulevard at Avalon. Luxury retail shops and restaurants line the boulevard and will ensure a festive day for all attendees. Featured will be both vintage and contemporary vehicles of all makes and models. Automotive designs by Lamborghini, Porsche, Ferrari, Rolls-Royce, Aston-Martin, Bentley, BMW, Mercedes, McLaren will all be onsite. Guests will enjoy a wide variety of culinary offerings, fine wines & spirits, cigar lounge, smooth jazz and much more. This unique setting allows for wines and cocktails to be enjoyed by attendees while strolling the entire display on the boulevard. Event details and sponsorship information is available by contacting Festivals of Speed.
Festivals of Speed with headquarters in Eustis, Florida has operated for the last 14 years as the ultimate luxury showcase for discerning enthusiasts with a passion for all forms of transportation and luxury brands. The events display the world's most exotic automobiles, motorcycles, watercraft, motorcycles & luxury brands throughout Florida. Plans to operate in Georgia are underway for Fall 2017.
For more information:
Joe Sabatini
Festivals of Speed
2750 Dillard Road, Unit 8 Eustis, FL 32726
352-385-9450
joe@festivalsofspeed.com
www.festivalsofspeed.com
Please note. We have high quality images available for this press release. Simply contact us and we will send you a link to them.
Contact
Festivals of Speed
Joe Sabatini
352-406-9325
www.festivalsofspeed.com

Contact