Adroit Surgical Demonstrates Vie Scope™ Life Saving Airway Management Device at 1st Annual Ark-La-Miss Emergency and Critical Care Transport Conference
Adroit Surgical™ is demonstrating the two latest advancements in airway management at the 1st Annual Ark-La-Miss Emergency and Critical Care Transport Conference taking place in West Monroe, La on July 19th and 20th, 2017. The Vie Scope™ and the Voir Bougie™ and Tactical Bougie™ will be available for all to try and compare to any other Laryngoscope.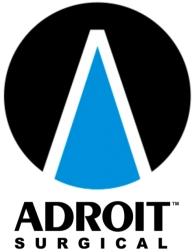 Oklahoma City, OK, July 17, 2017 --(
PR.com
)-- Adroit Surgical offers the chance to get hands on with the latest Intubation tools, the Vie Scope™ and the Tactical Bougie™.
The patented Vie Scope™ offers Paramedics and Doctors the unique ability to handle all adult intubations using only one laryngoscope. Removing all guess work and lost time trying to get the right size for the patient. The direct line of sight view for the user, and the patented 360 degree illumination mean you keep your eyes on the patient, and you can now see what you are doing, resulting in lower patient complications, first pass success, as well as saving time and money.
The technique for intubation can be made safer, faster, and more efficient with the use of Adroit Surgical's Voir Bougie™(patent pending). The Voir Bougie™ is unique in that clearly marked bands permit the user to note the correct depth upon insertion to avoid lung or tracheal injury. This allows the process of intubation to occur safely when passing the endotracheal tube over the Voir Bougie™ during intubation.
Adroit Surgical™ is proud to support this 1st annual event hosted by MedSouth featuring the following vendors:
· Henry Schein
· Pafford Medical Services
· Pafford Air One
· Holmes Community College
· Zoll
· American Heart Association
· Adroit Surgical
· Glenwood Regional Medical Center
· Ferno
· Southwest Ambulance Sales
· Baton Rouge General Burn Center
· Jones & Bartlett Learning
Background:
30 million patients require intubation each year in the USA. Intubation is one of the top 20 billed CPT codes in the ED. The Vie Scope™ makes intubation faster, easier, and less expensive than other methods. Resulting in better first pass success, less patient complications, saving time and money. The Vie Scope™ is an elegant simple design that does not require a video monitor therefore lowering costs and allowing this device to be used in any environment (bright sunshine, in a helicopter, on the battlefield). As most physicians can attest to, correct intubation of a patient is most important thing that happens in the ED because: "if your patient is not breathing nothing else matters."
About:
Adroit Surgical™ is a privately funded medical device company that has developed a patented method for securing the airway in emergency situations and in the operating room. The first two introductions are unique products that are disrupting the current standard of care, making it faster, safer and less expensive to address a large void in airway management.
MedSouth is hosting the 1st Annual Ark-La-Miss Emergency and Critical Care Transport Conference. Attendees are EMT's, Paramedics, Nurses and EMS administrators from the top EMS providers in the Arkansas-Louisiana-Mississippi region.
Press Contact:
Paul Hagen
425-577-2713
phagen@adroitsurgical.com
For more information visit: www.adroitsurgical.com
Contact
Adroit Surgical
Paul Hagen
425-577-2713
www.adroitsurgical.com

Contact