Arteric President and Co-Founder Hans Kaspersetz Leads Workshops to Enhance Digital Marketing Capacity of Cancer-Related Advocacy Organizations
Veteran Healthcare Digital Strategist Discusses Foundational and Leading-Edge Digital Tactics with Patient and Professional Advocacy Organizations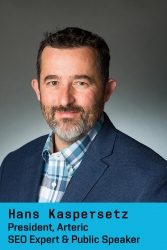 Summit, NJ, July 18, 2017 --(
PR.com
)-- Arteric (http://arteric.com), a digital healthcare marketing agency that fuses exceptional software development skill with healthcare marketing expertise to help brands connect patients, caregivers, and healthcare professionals with the health information and tools that enable patients to live longer, healthier lives announced today that Arteric co-founder and President Hans Kaspersetz led a series of workshops for advocacy groups that support patients, caregivers, and healthcare professionals in the cancer-care community.
Workshop attendees — staff leaders with responsibilities in marketing, communications, and website development — honed skills using contemporary strategies such as website development, content strategy and search engine optimization and learned how to apply emerging engagement tactics, such as augmented reality and artificial intelligence. The program coincided with the 2017 annual meeting of the American Society of Clinical Oncology (ASCO).
About The Workshops
Along with teaching best practices and leading-edge digital strategy and tactics, Mr. Kaspersetz evaluated attendees' digital marketing programs, recommended enhancements and resolved specific challenges that each organization currently faces. "Sharing our knowledge is a core principle at Arteric. Supporting advocacy organizations that educate patients, caregivers, and healthcare professionals is a privilege and a natural fit for us," states Mr. Kaspersetz.
More information about the issues and recommendations discussed at the workshops is provided at arteric.com
.
Prior to the workshop, attendees provided information about their marketing communication goals, strategy, tactics, and performance. Mr. Kaspersetz used this information to develop training content and recommendations specific to each organization's needs.
Mr. Kaspersetz continues, "Cancer patients and their caregivers need intuitive, informative content to help them find and coordinate the best available care. When they are in crisis with a new diagnosis or recurrent disease, the answers to their questions must be accessible and at their fingertips without a lot of searching and struggle."
"Our goal is to help build capabilities and capacity within the patient and professional advocacy world so that our advocacy partners deliver on their promise to the community," states Mr. Kaspersetz. "We've seen firsthand the challenges that advocacy groups face — and we have used smart Web development and advanced SEO to help those groups meet those challenges."
A thought leader in digital healthcare strategy, Mr. Kaspersetz has a passion for combining medical innovation with digital technology to advance human health. Mr. Kaspersetz serves on the board of Transforming Medicine: The Elizabeth Kauffman Institute (TMed); a nonprofit 501(c)(3) organization established to use precision medicine to help people with life-threatening diseases find the most effective treatments more quickly.
Mr. Kaspersetz returned to lead his second annual workshop. He sums it up this way. "On a professional level, it's satisfying to see improvements in attendees' communication efforts after the workshop. On a personal level, it's rewarding when I consider the audience that we ultimately serve."
For two decades, Arteric has developed digital marketing strategies, websites, mobile apps, and Web applications that drive growth for healthcare brands and advocacy organizations. If you would like Mr. Kaspersetz to lead a workshop for your organization, or prefer to schedule a 15-minute conversation to discuss how to maximize the impact of your digital communication programs, contact Mr. Kaspersetz at 201.558.9910.
About Arteric
Arteric is a digital marketing agency built on a foundation of technology expertise — digital strategy, software engineering, search engine optimization and search engine marketing. Arteric develops the strategy and the software — Web sites, mobile apps, and Web applications — that drive pharmaceutical and biotechnology digital marketing campaigns and connect the public and healthcare professionals with information about life-changing therapies, technologies, and devices.
Contact
Arteric
Ross O'Shea
201.546.9910
http://arteric.com

Contact