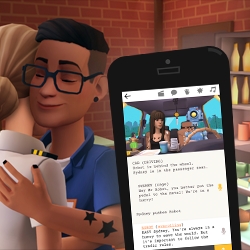 Stockholm, Sweden, July 26, 2017 --(
PR.com
)-- Plotagon Story is an animation app with a unique user experience. The user selects a scene, creates their own actors, and writes the dialogue while adding emotions, sound effects and music. In just a short few steps, the user can create any kind of animated movie they want, and also record their own dialogue, making the app work in any language.
This app won the Red Dot design award last year and was a finalist in Fast Company's Innovation by Design has been available for PC, Mac and iOS for two years, with over one million installs worldwide. It features a custom character maker, and over 150 scenes and environments for the users to create their stories in, which can then be shared with Plotagons user community.
Plotagon is now available to download for free from the Google Play Store
, giving Android users a chance to experience making films in a brand new way.
Plotagon is designed to work in the same way on desktop computers, tablets and phones, with the same user experience on all platforms. This essentially puts a powerful animation studio in the palm of your hand. The Android version has the added ability to export any scene or dialogue as an animated GIF, making it a fun way to create fantastic animated messages.
The Plotagon user community is a friendly place where people of all ages from all around the world can follow, like and comment on each others films.