Lockdowel Wins 2017 AWFS Visionary Award with New Screw-less EClips Drawer Slide
Glue-less fastening solutions company Lockdowel has won the 2017 AWFS Visionary Award in hardware with their new screw-less "EClips" click-on drawer slide.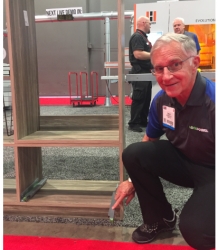 Fremont, CA, July 27, 2017 --(
PR.com
)-- Lockdowel the makers of glue-less, tool-less fastening solutions, has won the 2017 Association of Woodworking and Furniture Suppliers (AWFS) Visionary Award in hardware with their new screw-less drawer slides. The Lockdowel "Eclips" click-on, drawer slide was judged by a panel of industry experts at the international 2017 AWFS Fair in Las Vegas last week. The company was told that the hardware division had the most entries and that Lockdowel was the sole winner. The Lockdowel fasteners are affixed to drawer slides enabling complete, tool-less installation in a fraction of the time.
"This technology is about to shake up a multi-billion dollar market!" Lockdowel Co-founder and President Bryan Koelling says. "When you massively reduce labor costs and increase quality and efficiency you win, hands down. You just slide them and click them in like seat belts."
The Lockdowel "Eclips" technology-based drawer slides are ready for market and can be purchased from Lockdowel's on-line catalog: www.Lockdowel.com --or from Charles McMurray Company representatives in Nevada and California. "Our drawer slide fastening system saves hours and hours of labor in completing cabinetry and construction jobs. I'm extremely proud of our team for bringing an entirely new and entirely needed solution to installing high-quality drawers," Koelling says.
Lockdowel had a record number of AWFS attendees visiting their booth this year to see their new line of invisible EClips fasteners, drill-less Delta Clips and an array of click-together drawer slides. "All of these fastening solutions allow a fast, no-mess and no-screws build of furniture, cabinets and displays at the customer's site," Koelling explains. "Our entire booth at AWFS was built with Lockdowel snap-together assembly."
Lockdowel invites you view an "EClips Drawer Slide" fastener installation at: https://www.youtube.com/channel/UCqWYTd4MZbXkOEYLDGEKpgw/videos?view=0&sort=dd&shelf_id=0
About Lockdowel
Lockdowel manufactures fasteners, drawer slides and hinges for fast and easy installation of cabinets, furniture, closets and architectural millwork. Patent pending. Lockdowel 48834 Kato Road #110A Fremont, CA 94538; (650) 477-7112 www.lockdowel.com
Pictured: Lockdowel VP of Sales Thomas May shows a screw-less click-on EClips Drawer Slide--AWFS Visionary Award Winner for Hardware.
Contact
Mary Lynn Heath, PR
Mary Lynn Heath
405.641.9733
www.lockdowel.com

Contact
Multimedia
The entire Lockdowel booth was constructed with Lockdowel glue-less, tool-less lock-together assembly. The booth can be unassembled and rebuilt. Co-founders Bryan Koelling and Fred Koelling are pictured.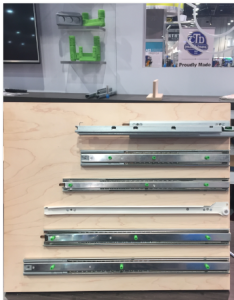 Lockdowel EClips Click-in Screw-less Fastened Drawer Slides