PS Website Design Launch the New Seabrook Crisps Website on Yorkshire Day
Yorkshire Day - Time for Yorkshire Puddings, Pints of Real Ale and Looking at the new Seabrook Crisps Website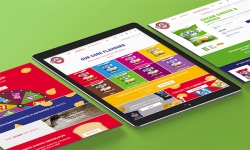 Leeds, United Kingdom, August 02, 2017 --(
PR.com
)-- Yorkshire folk love Yorkshire Day. It's a time to celebrate all the good that comes from God's own County. From its rugged coastline, rolling green hills and purple moors, to the bustling cities of Leeds, Bradford and Sheffield.
In 2017, Yorkshire Day is also the day that
PS Website Design
sends Bradford's own Seabrook Crisps new website live. The new websites offers an interactive feel with games and quizzes all for users to enjoy. Below are the steps that PS Website Design took to reach such a great looking website.
Planning
From the outset, PS Website Design ensured the planning stage was thorough. When re-designing a website it is crucial to pay particular attention to the keyword ranking positions, ensuring that once the new website goes live it does not have a negative effect on the rankings and therefore the organic traffic.
Design
Designing a website is never easy, as there are many variables that come into play. For a brand as iconic as Seabrook Crisps, creating a website that lives and breathes their values was always at the forefront of the creative process. Focusing on Seabrook's proud Yorkshire heritage and renowned sense of humour, the website utilises a modern and fresh colour scheme to complement their vibrant new packaging, as well as little whimsical touches throughout, to bring each product's personality to life.
Website Build
Once the designs had been signed off, the expert development team at PS set about their work to build the new website. Using a completely bespoke CMS system and designs to use as a reference, the team used all of their skills and experience to build the fully bespoke site from scratch.
With different types of crisps and a host of different flavours, the planning stage was put to its test to map out which packets belong to which category. The website also offers a great deal of user interaction with different games for the users to play. There is also true or false questions to create and contact forms to build.
Once this lengthy process had been completed the developers then had to fully test every corner of the site.
Website Launch
The launch of a website is always a very proud and happy time for the team at PS, it signals coming towards the end of hard work, working through the different stages. The hard work is not over at this stage however, there is still hard work in sending a website live and it requires more time, effort and a great deal of concentration. Once the confirmation email has been sent to the client, it is then that the website has been fully signed off and sent live, and it is then where the cups of coffee turn into celebratory drinks!
As a result, the team at PS Website Design will remember Yorkshire Day 2017 as a very proud day. Not only for being lucky enough to live and work in God's own County but for what they achieved to create such a magnificent looking website.
Contact
PS Website Design Ltd
Robbie Miller
1943 605894
www.pswebsitedesign.com

Contact