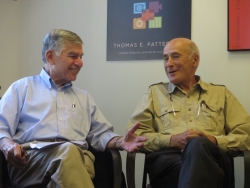 Cambridge, MA, August 03, 2017 --(
PR.com
)-- Throughout August, Boston Global Forum scholars and experts on international relations (
www.bostonglobalforum.org
) will discuss and develop innovative solutions to the nuclear missile crisis posed by North Korea; with recommendations to be discussed during the World Reconciliation Day Symposium at 8:30 AM to Noon, September 9th, Loeb House, Harvard University, 17 Quincy Street, Cambridge, Mass.
The event has been organized by the UNESCO Chair on Global Learning and Global Citizen Education UCLA and The Boston Global Forum. The Boston Global Forum was founded in 2012 by Gov. Michael Dukakis and Nguyen Anh Tuan along with a dedicated group of internationally renowned scholars and political leaders as a think tank dedicated to finding peaceful solutions to contentious issues between nations and other events that decrease the safety and freedom of the World's Citizens.
Professor Joseph Nye former dean of the John F. Kennedy School of Government at Harvard University and a member of The Boston Global Forum Board of Thinkers will deliver The Hoa Sen Distinguished Lecture on Reconciliation on the value soft power in reducing international tensions - especially with regard to conflict with The Democratic People's Republic of Korea.
The Hoa Sen Group is Vietnam's foremost manufacturer of sheet steel and building components.
"As we are acutely aware, relations between many of the world's nations have become so hostile that a single misstep can turn political brinksmanship or a regional conflict into a global conflagration. Nowhere is there a greater risk than with North Korea, its neighbors and the United States," said Gov. Dukakis in announcing the first Annual World Reconciliation Day event.
Program – further details to follow.
Opening Remarks by Gov. Michael Dukakis, Chairman, the Boston Global Forum
Recognize Prof. Joseph Nye as Distinguished Global Educators for Peace and Innovation
Prof. Joseph Nye will deliver the Hoa Sen Group distinguished lecture on soft power for reconciliation.
Discuss innovative solutions for world reconciliation
Remarks by Boston Global Forum co-chairman Nguyen Anh Tuan
The Boston Global Forum has addressed multiple world issues such as improving working conditions in Asia, conflict in the South China Sea and enhancing cybersecurity amidst numerous state-sponsored, rogue actor and other cyber threats.
World Reconciliation Day, is hosted annually by UNESCO-UCLA Chair on Global Learning and Global Citizenship Education, UCLA and the Boston Global Forum.
Should you have any questions, please contact media liaison Dick Pirozzolo at +1 617 959 4613 or dick@pirozzolo.com.
About The Boston Global Forum
Established in 2012, The Boston Global Forum brings together, in an open and accessible public forum, an eclectic and engaging spectrum of highly regarded academic leaders, real-world experts, thought leaders, media experts and promising young leaders.
BGF's immediate goal is to identify emerging threats to peace and stability around the globe, suggest realistic solutions, and identify possible actions that can be taken to avert armed conflict. The Forum's ultimate goal is to lessen tensions, promote peace and security, and foster conditions that lead to greater social justice and broader economic prosperity throughout the world.
For press credentials contact Media Liaison Officer
Dick Pirozzolo: dick@pirozzolo.com