Nano Jewelry Shows Off Groundbreaking Inscription Technique with a Unique Necklace
Nano Jewelry video: https://www.youtube.com/watch?v=dmEzauoRqfo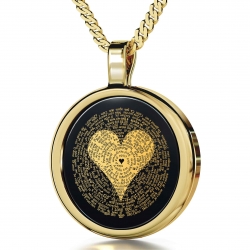 Tel Aviv, Israel, August 17, 2017 --(
PR.com
)-- Nano Jewelry, an online jewelry store specializing in creating necklaces adorned with miniature 24K gold inscriptions, has shown off its most complex creation to date. Dubbed
the love necklace
, it is a pendant inscribed with the words "I Love You" in 120 different languages.
Zohar Ezra, Nano Jewelry's founder and leading designer stated, "We've put out some one-of-a-kind pieces in the past, but this one is truly special, both from a technical and an emotional standpoint. We're proud to have refined the process that made us who we are today to the point of being able to create jewelry such as this, and believe that it will help people recognize our brilliant gift shop for what it really is – a great place to shop for gifts they won't find anywhere else."
The showcased necklace consists of a chain and a round frame made from 14-karat gold, as well as a polished onyx stone at its center. The stone is inscribed with pure 24-karat gold and features phrases corresponding to "I love you" in 120 languages.
According to Ezra, none of Nano Jewelry's competitors can create inscriptions with the same amount of detail and on such a small scale. He sees the necklace as an unusual gift for women whose theme and execution are likely to strike a chord with a large audience. It is his hope that it will become a welcome gift for birthdays and anniversaries, not to mention major holidays like Christmas and Valentine's Day.
Nano Jewelry has been in business for 26 years and offers a wide assortment of necklaces online, all with their signature golden inscriptions. Customers browsing their site can pick from a variety of themes including religious and spiritual jewelry, romantic gift ideas for various occasions and others.
All the necklaces come in four different precious metal variants – 14-karat yellow and white gold, gold plated and 925 sterling silver. Most also feature stones whose color can be chosen as well. Each necklace comes with its own box, and a magnifying glass for easier viewing.
While browsing, customers can "drop a hint" to someone they feel should also take a look. Pressing the corresponding button sends them a subtle email encouraging them to get the necklace as a gift. The site offers secure payment options and promises quick delivery. A money back guarantee as well as a return policy are also in place.
For more information, Ezra can be reached by emailed at: service@nano-jewelry.com, and by visiting www.nano-jewelry.com online.
Contact
Nano Jewelry
Zohar Ezra
+972-526-300-122
https://nano-jewelry.com

Contact