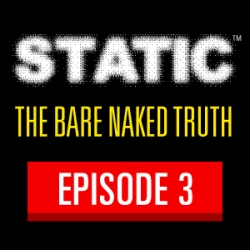 Pomona, CA, August 07, 2017 --(
PR.com
)-- "If you see a product named 'Cancer-Be-Gone', what, as a consumer, goes through your mind?" ponders Virun CEO and Co-founder, Philip Bromley. "Would you think that taking the supplement would make your cancer go away?" Philip explains that federal law requires a product making health claims be able to scientifically back up those claims, but that rule does not apply so strictly to the naming of a product. For STATIC 3, the Virun team sneaks into a nationwide big box store and looks at several products that use this marketing grey area to the consumer's disadvantage. Philip continues, "My point is, there are a lot of companies out there that market their products by putting a claim in the name. Cancer-Be-Gone is not an actual product, but you would be surprised by the marketing that companies get away with in this regard. I created STATIC for this exact reason; to call out the industry for operating in this way. STATIC removes the static noise that interferes with reality." The most recent edition of the series also provides a glimpse of life at Virun when the camera is not rolling, and the result is anything other than STATIC (hint: rocking out to DROSS in the warehouse, and games where you might lose your shirt- literally). STATIC is Virun's popular video series which streams live on BEVNET and abroad, and exposes the dark underbelly of the functional beverages, foods and supplements markets, with a good dose of humor and an occasional punk rock band thrown in. Episode 3 is available for viewing at http://www.virun.com/videos.html.
Virun will be "Making Formulation Great Again" from September 25 through 29, 2017 as it joins with Algarithim at SupplySide West at Mandalay Bay in Las Vegas, Nevada. Booth T-169 will feature a southern mansion, complete with barbecue, a shady lawn and a picnic of new products, including CBD beverages, chocolate mocha creamers and more. Manufacturers interested in learning more can contact Virun at innovate.today@virun.com.
About Virun Nutra-BioSciences:
Founded in 2003, Virun Nutra-BioSciences was formed to create nutritious, great-tasting and novel formulations for the food, beverage, supplement and pharmaceutical markets. Located in Pomona, California, Virun is a fully integrated research, production and and manufacturing facility which quickly conceptualizes ideas to create innovative custom bulk blends and finished products for contract manufacturing. Virun is the only biotechnology company that owns over 80 patents worldwide and develops technology around biochemistry practices. The company came to notoriety with its Esolv OmegaH2O technology, which incorporates omega-3 EPA DHA into clear, shelf stable beverages without a fishy taste, by using their clean-label-claim emulsifier, Esolv. Virun's other innovative solutions and brands include Probiferrin, CoQ10 branded as Esolv CoenzymeClear, Esolv AstaxH2O, PQQ branded as EsolvPQQwater, Esolv lutein, phytosterols, and curcumin.
For more information, visit www.virun.com.