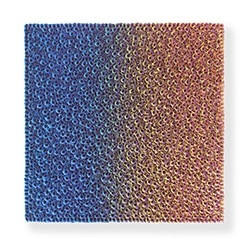 Dallas, TX, August 10, 2017 --(
PR.com
)-- Dallas Design District Gallery, Laura Rathe Fine Art, announces an introductory solo exhibition "Chromatic Shift," featuring new works by internationally acclaimed artist, Zhuang Hong Yi, with an opening reception on Saturday, September 9 from 5-8pm.
Brilliantly colorful and richly textured, the work of Zhuang Hong Yi has a remarkably physical presence. His recent "flower bed" works are made of delicate rice paper, which the artist hand paints and carefully folds into hundreds of tiny flower buds. The artist densely gathers these elements into dazzling three-dimensional constructions with colors that shift depending on the viewer's perspective. This visual play of color and organic form evokes many of nature's processes, most notably beautiful gardens bursting into life.
"Chromatic Shift" will be on view through October 7, 2017.
About The Artist
Born in 1962 in Sichuan, China, and based in Beijing and The Netherlands, artist Zhuang Hong Yi draws influence from both his native China and his experiences living part-time in Western Europe since the early 1990s. Zhuang Hong Yi masterfully works in a variety of media, often blending elements of painting, collage, and sculpture into bold series of works that defy traditional categories.
The work of Zhuang Hong Yi has been collected and exhibited worldwide in such countries as Belgium, England, Italy, Germany, Spain, and France. A graduate of the Sichuan College of Fine Arts, Zhuang Hong Yi has also been the subject of multiple museum exhibitions including at the Found Museum in Beijing, China, and the Groninger Museum, the Stadsmuseum Zoetermeer, and the Stedelijk Museum Zwolle in The Netherlands.
About Laura Rathe Fine Art
With over 25 years' experience in the industry, gallery owner, Laura Rathe, started her career working as a private art dealer before establishing Laura Rathe Fine Art (LRFA) in 1998 in Houston, Texas. LRFA now operates out of two locations in Houston and a third gallery in Dallas on Dragon Street, the city's premiere arts district destination. Since the gallery's inception, LRFA has established itself as a leading contemporary art venue, offering an impressive range of exhibitions and programming to its patrons in both cities.
LRFA represents a dynamic roster of established and mid-career contemporary artists working in a variety of media, many of whom have been acquired into world-renowned private, corporate, and museum collections. Various clientele include BBVA Compass, HKS Architects, Wells Fargo, W Hotels, UT Southwestern, and Halliburton. LRFA also participates in a number of prominent art fairs including CONTEXT Art Miami, Art Southampton, Art Wynwood, the Houston Fine Art Fair, Texas Contemporary, and the Dallas Art Fair.
For additional information, details or to schedule an interview, please contact:
Janice Meyers, Director Janice@LauraRathe.com &/or 214.761.2000
Auriel Garza, Associate Director Auriel@LauraRathe.com &/or 214.761.2000