Regency Office Furniture Selects Lockdowel Fast, Screw-less Assembly for Legacy Conference Tables
Regency has chosen Lockdowel EClips snap-together fastening for its Legacy Conference Tables. Available online at Walmart, Amazon, Staples, Overstock.com and Grainger.com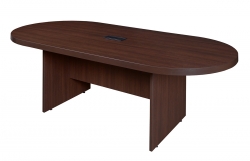 Akron, OH, August 17, 2017 --(
PR.com
)-- Regency, Inc. has chosen Lockdowel EClips snap-together fastening for its patented modular Legacy conference tables. The company has incorporated Lockdowel glue-less, screw-less assembly, allowing even a 24-foot table to be easily built without tools from flat packaging, and then taken down again for mobility and shipping. The patented Mahogany, Cherry and all-new Java colored modular conference tables are built from only five components and expand in four foot increments to grow with any size team. They can be purchased online from Walmart, Amazon, Staples, Grainger.com and Overstock.com.
"We chose Lockdowel snap-together fasteners because they are super sturdy and super easy for customers to put together," John Summerville, President of Regency, Inc says. "We have had positive customer reviews on how easy our other pieces using Lockdowel are to assemble, so we decided to add screw-less fastening to our Legacy line, which has the potential to revolutionize how large furniture is built."
According to Regency, assembly time for a 20-foot board room table has gone from more than three hours for two people with traditional cams, screws and hardware, to less than one hour with Lockdowel EClips fastening. "Since there are no screws, no drilling and no small hardware parts to go missing, customers can assemble right away, saving labor time and cost," Summerville says. "Just slide into place and go. It's that easy!"
Lockdowel EClips fasteners have passed SEPA 8 testing and are in compliance with all Architecture Woodwork Institute (AWI) standards. "Inspiration for Lockdowel came after I had ordered a dining set, received it flat packed with a million pieces, inadequate instructions, and still had to run to the hardware store," Bryan Koelling President of Lockdowel explains. "To see Lockdowel used to assemble 24 foot board tables in minutes rather than hours, really brings the solution to fruition."
About Regency, Inc.
Regency began in 1940 as Summervilles, an office product supply store in downtown Akron, Ohio, started and led by Norma B. Summerville and has expanded over the years to become a global supplier and manufacturer of a wide array of office furniture products and materials. Now in its 3rd generation of family management, Regency also includes in-house design teams, installers, a custom crate and furniture shop and a national sales network. 2375 Romig Road, Akron, Ohio 44320, 866-816-9822, www.regencyof.com
About Lockdowel
Lockdowel provides fasteners, drawer slides and hinges for fast and easy installation of cabinets, furniture and architectural millwork. Patent pending. Lockdowel 41920 Christy Street, Fremont, CA 94538, (650) 325-8732 www.lockdowel.com
Contact
Mary Lynn Heath, PR
Mary Lynn Heath
405.641.9733
www.lockdowel.com

Contact