ADvendio to Offer Free of Charge Google Doubleclick Dart Sales Manager (DSM) Data Migration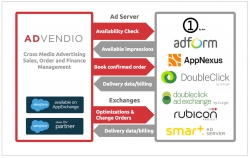 Wilmington, DE, August 24, 2017 --(
PR.com
)-- Businesses facing the end of Doubleclick Dart Sales Manager (DSM) are being thrown a lifeline by the leading advertising business solution powered by Salesforce. ADvendio is an end-to-end SaaS solution, as smart and as powerful as DSM.
As a long time Google Doubleclick partner, ADvendio is the perfect next generation replacement for the outgoing DSM service, with free data migration to assure a seamless transition available for a limited period.
Bernd Bube, CEO at ADvendio said, "ADvendio is a scalable order management solution with a complete bi-directional ad server integration to Doubleclick DFP and AdExchange. Businesses making the switch from DSM to ADvendio can expect full support and tools which enable them to build stronger connections between CRM, order and finance. With automated processes and better data flows, ADvendio also effortlessly bridges the gaps usually found between sales and ad ops teams, delivering better collaboration and efficiency."
ADvendio is feature rich and designed to support the full business process in connection for DFP and AdExchange. DSM users can expect to tap into a host of benefits and timesaving features, including the ability to:
- Create proposals with pre-defined products and rate cards
- Book complete ad server campaigns directly in ADvendio
- Integrated push order creation to ad server including any attributes (targeting, etc.)
- Access ad server data in ADvendio
- Availability forecasts
- Campaign performance and monitoring (optimization)
- Creative upload
- Site based delivery status and delivered AIs/clicks
- Deactivating flights on ad server
- Billing and Reconciliation
- Additional: Multiple ad servers per campaign
While DSM was first introduced in 2006, ADvendio is a thoroughly modern alternative, better equipped to handle the complex demands of the ad landscape. It is designed to handle complex campaigns across multiple channels, including digital, print, radio and TV. The Salesforce-powered solution streamlines cross-channel ad sales with effortless ad server integration across the likes of Doubleclick DFP, One by AOL, AppNexus, Smart AdServer and SSPs like DoubleClick Ad Exchange, AppNexus, Rubicon Project, Yieldlab or Adform.
Publishers and agencies migrating from DSM to the more capable ADvendio will also be able to tap into more global insights, with complete inventory and revenue stream views. Standard business processes from quote to cash can also be handled with ease, with sales, orders, inventory, price management, analytics and finance covered.
ADvendio is embedded into the Salesforce.com platform and product suite with infinite customization options. The free data migration from DSM to ADvendio offer is only available for a limited time.
To find out more visit:
www.advendio.com
About ADvendio
ADvendio is the leading advertising business solution powered by Salesforce. It helps publishers and sales houses to make the most of their print, digital, TV, radio, out-of-home or cross-media ad inventory. The SaaS solution enables media companies to manage their complete advertising business process end-to-end within one application: from sales and order management, booking and reporting to billing leading to a perfect interplay of sales, ad ops and finance. ADvendio unifies and automates processes and data flows across fragmented application environments found at most media companies.
Contact
ADvendio.com
Bernd Bube
646-583-0220
https://www.advendio.com

Contact