Arteric Develops Website Centerpiece of Award-Winning Psoriasis Patient Activation Campaign
Rise Up Against Psoriasis Wins Golden Scalpel Award.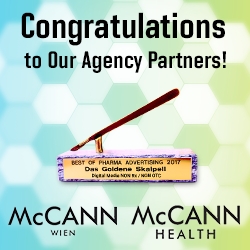 Summit, NJ, August 21, 2017 --(
PR.com
)-- Arteric (http://arteric.com), a digital healthcare marketing agency that fuses exceptional software development skill with healthcare marketing expertise to help brands connect patients, caregivers, and healthcare professionals with the health information and tools that patients need to live longer, healthier lives proudly announces that the patient activation campaign Rise Up Against Psoriasis won a coveted Golden Scalpel award. In collaboration with McCann Health London and McCann Wien, Arteric developed and implemented the campaign's website centerpiece (riseagainstpsoriasis.com/de) for Celgene Österreich (Celgene Austria).
The strategic process behind this award-winning collaboration is described in detail at arteric.com
.
Presented by Pharma Marketing Club Austria, the Golden Scalpel awards represent best-in-class pharmaceutical advertising in Austria. Two juries of industry experts - one with general marketing expertise and the other with digital marketing expertise - selected award recipients. Rise Up Against Psoriasis received a Golden Scalpel in the category Digital Media non-RX/non-OTC.
Psoriasis poses risks that go far beyond skin lesions. Research findings point to an increased risk of depression, anxiety, and risk of suicide in people with psoriasis. [1] The Rise Up Against Psoriasis campaign was developed to activate patients who had disengaged from the healthcare system.
The website accomplishes this through 4 tactics:
1. A short movie follows 3 people through their daily struggles to help psoriasis sufferers recognize that they are not alone.
2. A quiz helps psoriasis sufferers quantify the impact of the disease on their daily lives.
3. A physician finder connects psoriasis sufferers to local dermatologists.
4. A discussion guide creates the foundation for a successful conversation with the physician.
These tactics are delivered through a beautifully designed responsive website that is instrumented to track engagement and provide insights about visitors, to guide future campaign development.
Arteric's president, Hans Kaspersetz, explains, "Rise Up Against Psoriasis has been successful because it authentically speaks to the psoriasis sufferer's daily struggles with the disease - it calls out to all those directly and indirectly affected by psoriasis, sending the essential message that help is available. The website invites site visitors to complete the Dermatology Life Quality Index survey to assess the impact of psoriasis on their quality of life, helping to build context for a conversation with their doctor."[2]
Mr. Kaspersetz continues, "Arteric has a robust global digital marketing practice with clients in North America, the EU, Asia, and Australia. For more than a decade, we've created websites and digital campaigns for audiences all over the world. Our team has delivered digital assets in 28 languages in 35 markets. We're especially pleased to create locally recognized best-in-class work with international partners like McCann Health London."
Jonathan Kukathasan, General Manager of McCann Health London, concurs. "While developing the Rise Up Against Psoriasis campaign, we worked alongside key partners to ensure it was a success. As the creative agency, we enjoyed working with Arteric, which played a critical role. It was great working alongside them to create this campaign and we look forward to working with them in the future."
Mr. Kaspersetz summarizes the effort this way. "The award validates the years of effort we've invested in understanding global needs and local markets. Whether in the US or in Austria, our goal is to connect people with the health information and resources they need to live longer, healthier lives."
For two decades, Arteric has worked directly with healthcare clients and partnered seamlessly with their service providers to develop award-winning websites, mobile apps, and Web applications that work everywhere and every time to help brands win. Contact Hans Kaspersetz at 201.558.9910 to put Arteric's digital marketing expertise to work for your brand.
Learn more about Rise Up Against Psoriasis at http://www.riseagainstpsoriasis.com/de.
About Arteric
Arteric is a digital healthcare marketing agency built on a foundation of technology expertise - digital strategy, software engineering, search engine optimization, and search engine marketing. Arteric develops the strategy and the software -websites, mobile apps, and Web applications - that drive pharmaceutical and biotechnology digital marketing campaigns and connect the public and healthcare professionals with information about life-changing therapies, technologies, and devices.
References
1. Kurd SK, Troxel AB, Crits-Christoph P, Gelfand JM. The risk of depression, anxiety and suicidality in patients with psoriasis: a population-based cohort study. Arch Dermatol. 2010;146(8):891-895. Available at https://www.ncbi.nlm.nih.gov/pmc/articles/PMC2928071/. Accessed August 18, 2017.
2. Findlay A, Khan G. Dermatology Life Quality Index (DLQI). 1992. Available at http://www.bad.org.uk/shared/get-file.ashx?id=1653&itemtype=document. Accessed August 21, 2017.
Contact
Arteric
Ross O'Shea
201.546.9910
http://arteric.com

Contact