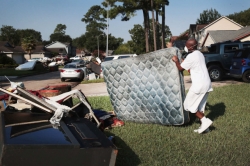 Mundelein, IL, September 07, 2017 --(
PR.com
)-- PanLbilt's patented 21st Century Steel and Foam Cement Panel Kits comprise Exterior/Interior Walls, Windows, Doors and Roof. The pipes for high and low voltage and water are embedded in the walls. Assembly of a 2 or 3 story customized residence takes less than 5 days when placed upon a cement pad with available utility and sanitary hookups.
The patented interlocking design provides less than 2mm separation between panels. All panels can be painted to provide a finished look or can be decorated on the exterior with siding or face brick.
Internal fit and finish can be provided by local contractors certified by PanLbilt and provisioning local products including fixtures, appliances, plumbing, cabinets, flooring, lighting and electrical, smart building systems, fire suppression, smoke alarms, etc. to enable job creation and local economic recovery.
Competitive Advantages of PanLbilt building materials include:
-Waterproof panels - Withstands heavy rain
-Resistant to mold and mildew
-Life Spain: 50-70 years
-Fire Proof: A1 Level
-Thermal Conductivity: 0.1035 W/m.K
(90mm thick wall has the same thermal conductivity as 350mm brick wall)
-Thermal Resistance: 0.869 m2·K/W
-Snow Resistance: Snow pressure 8.219 KN/m2
-Earthquake Resistance: Up to Richter 9
-Sound Insulation: 40 dB
-Wind Load: Wind speed up to 140 MPH
-Wall Shock Resistance: 500 KG concentrated force
-Built-in electrical Wire and Water Conduits
Available customized models include:
Granny House, 520.5SF, 1 story/1bedroom/1bath
Volare, 1,163.50SF,m 2 story, 2 or 3 story/2 or 3 bath
Durham, 1561SF, 3 story stackable multi-tenant flats, 1 bedroom/1 bath
Agora, 1,578SF, 1 story, 3 bedroom/2 baths
Carlyle, 1,688SF, 2 story, 3 bedroom/3 bath
Algonquin, 2036.50SF, 1 story, 4 bedroom/2 bath
Mali, 2,227SF, 2 story, 4 bedroom/5 bath
Please contact our marketing department at 224-425-9236 or email allano@PanLbilt.com for technical and pricing information.