ViRural & C3 Announce US-Africa Telecommunications Merger
The new combined company C3 Africa will focus on extending critical infrastructure, renewable energy, and telecommunications services to unserved and underserved communities across Africa.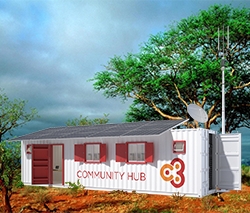 New York, NY, September 07, 2017 --(
PR.com
)-- ViRural Group, Inc. (ViRural) and C3 Ltd (C3), leading providers of critical infrastructure services for African communities, today announced the merger of the two companies, creating a Pan-African Group top-level company called C3 Africa. C3 Africa extends critical infrastructure, renewable energy, and telecommunications services (including mobile phone connectivity) for urban and rural communities via solar energy and other alternative power sources. Industry pioneer Jim Forster, an early Cisco employee and distinguished engineer, will join the company's board of directors. The merger is effective August 16th, 2017 and the companies have started the process of combining operations.
The new group will be privately held and operate under the brand C3 Africa and the national operations in Malawi under the C3 Malawi brand. Chris Schäke, C3's co-founder and current CEO, has been promoted to Chief Technology Officer for group operations, C3 Africa. Richard Chisala, C3's co-founder, has been named C3 Malawi's Chief Technology Officer. Paul Talley, co-founder, Chairman, and CEO of ViRural Group, Inc. has been named Chairman and CEO of C3 Africa group. The headquarters for group operations will be in London while C3 Malawi's operations will continue to be run out of the Blantyre and Lilongwe facilities.
"We are really excited about the merger. I think this is amazing because two organisations with a very similar vision and complementary skillsets and experience are joining forces," said Chris Schäke. "C3 has been reinventing the Internet in Malawi with an inclusive broadband strategy using hybrid fibre-wireless technology, fully solar powered base stations and robust cloud services. This has resulted in C3's ability to provide significantly more affordable, more reliable, more ubiquitous and faster Internet services to urban and peri-urban communities. Thanks to this merger, we can now spread our award-winning business model across Africa and help close the urban-rural digital divide."
Over the past several years, ViRural and C3 have focused on offering critical infrastructure solutions to African communities. While ViRural has focused on mobile-based solutions for rural communities, C3 has been targeting urban and peri-urban communities with the world's first nationwide Television White Space (TVWS) network and 15,000 dual-band Wi-Fi hotspots.
"This is extremely exciting, as our two organizations now combine forces, to drive innovation and transform Africa's communication landscape. The group operations will leverage on nearly 100 years of experience and further create opportunities for social and economic transformation for the underserved communities across the continent," said Richard Chisala co-founder and CTO of C3.
"The primary objective for our operation in Malawi is leveraging TVWS and other technology to offer Malawian businesses and consumers the highest quality and most reliable internet service in the country. We see the merger as an opportunity to not only build an amazing commercial business but also provide significant social and economic impact as a result of driving power and connectivity solutions deep into rural African communities," Paul Talley, ViRural's Chairman and CEO, said.
Combined, the companies have operations in Blantyre, Lilongwe, Abuja, and London; serving more than 30,000 customers.
Ambershore Group, an Impact Merchant Bank, served as the exclusive financial advisor to C3 Ltd. for the transaction. Matt Williams, partner and CEO of Ambershore, said "This merger embodies the cross-border blending of technical and management expertise that we love to support. C3 Africa's connectivity operations and their myriad positive impacts continue the push toward the United Nations' Sustainable Development Goals (SDGs) that define our firm's mission."
About C3 Ltd.
C3 Ltd. is a leading technology solutions provider in Malawi, a leading ISP (internet service provider), an Advisory Board member for the Dynamic Spectrum Alliance, a member of Facebook's TIP (Telecom Infra Project), a Microsoft partner, and the recipient of one of the largest Microsoft Affordable Access Initiative grants ever disbursed. C3 is building a nationwide fixed broadband network on TVWS (Television White Spaces) base stations and 15,000 Wi-Fi hotspots to provide fast, reliable and affordable triple-play services to urban and peri-urban communities. C3 currently provides these services to many NGOs, social enterprises and private sector organisations in Malawi. More information at C3.Africa.
About ViRural
ViRural Group Inc. (Vital Rural Communications) is a privately held, New York based, connectivity-solutions business focused on extending power and critical ICT (information & communication technologies) services to unserved and underserved communities in Africa. More information at ViRural.com.
Follow our progress on Twitter @C3Africa_, Facebook @C3Africa, and LinkedIn C3 Africa.
Press Contact
Cari Lou Maxwell
Marketing & Public Relations Manager | C3 Africa
US Mobile +1.530.913.2842 | Skype cl.maxwell | Cari@C3.Africa
Contact
C3 Africa
Cari Maxwell
+1-530-913-2842
C3.Africa
Cari@ViRural.com

Contact