Public Television Debuts Make48 This Fall Where Novice Inventors Create New Consumer Products During 'Round-the-Clock Invent-a-Thon
in "Make48," a Public TV series debuting this fall, novice inventors are given 48 hours to come up with a new consumer product—going from idea to prototype in a televised invent-a-ton. During the final episodes, three winners, picked by judges from QVC, Indigogo, Pivot International and Handy Camel will see their products pitched to major retailers. The series is distributed nationwide by American Public Television and underwritten by Stanley Black & Decker. Check local listing for times.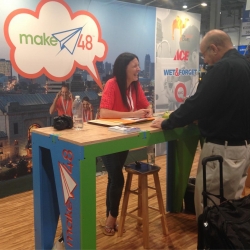 Boston, MA, September 14, 2017 --(
PR.com
)-- In celebration of innovation and ingenuity, American Public Television announces
MAKE48
, a new nonfiction television series launching this September on stations across the country that pits teams against each other as they compete to develop a new commercial product in a 48 hour invent-a-thon weekend.
Review the Make48 Trailer
Seventeen diverse teams were selected from around the United States, each from different backgrounds and age ranges. Each team was given two days to generate an idea and create a prototype, marketing materials, and a pitch. Throughout the competition, teams are supported by tool technicians and industry mentors including some of America's most successful product inventors.
At the end of 48 hours, the teams pitch their ideas to judges who include experts from QVC, Indigogo, Pivot International and Handy Camel. Three top inventions are chosen, at which time Make48 will then follow these products as they make their way to market.
Once the top three winners are picked, industry professionals will re-design the products, create prototypes, and produce marketing videos. The competition culminates in a crowdfunding campaign where the new products are put before the public to see if they are viable.
The goal of Make48 is to foster imagination, creativity, problem solving and the inventive spirit. Make48 CEO, Tom Gray says, "Make48's educational product innovation series is more like swimming with a pod of dolphins rather than being thrown into a tank of sharks."
Stanley Black & Decker, the world's largest provider of tools and storage, shares in the vision and purpose of the show. Dedicated to educating and inspiring those who build and invent to make a better world, Stanley Black & Decker has committed to be the Make48 as the exclusive production underwriter, helping deliver the educational series to the public.
"Both Stanley Black & Decker and Make48 know that the doers, the makers, and the inventors are our future," said Tim Perra, Vice President, Public Affairs for Stanley Black & Decker. "This show is a reminder that everyone has great ideas. We hope Make48 can help inspire individuals to see their ideas through to fruition and that everyone has the ability to make those ideas a reality."
American Public Television
The eight-episode premiere season of Make48 is distributed by American Public Television, Boston with current pick up by more than 207 public television stations reaching over 90 million households including the three top US markets of New York, Los Angeles and Chicago. The series is produced by Outpost Worldwide, Kansas City and presented by KTWU Washburn University, Topeka, KS.
According to APT the series is expected to resonate with the public television audience who will be inspired by these inventors and entrepreneurs as they overcome obstacles and meet with successes over the course of the series. "We're confident that the Make48 series celebrating innovation and problem solving will resonate with a public television audience," said Christopher Funkhouser Vice President, APT Exchange Programming and Multicast Services.
"Equipped with high-tech 3D printers, digital routers, hand tools, the internet, passion, inspiration, and lots of coffee, the inventor's products coming out of Make48 might just make it into your home one day," said Curt McMillan, co-founder of Make48, adding, "This is reality TV that works."
Contact
Make48 LLC
Dick Pirozzolo
617-959-4613
//make48.com

Contact